Supporting urban development (JESSICA)
Integrated, sustainable urban-renewal projects are supported through JESSICA (Joint European Support for Sustainable Investment in City Areas). A range of sophisticated financial tools are used including equity investments, loans and guarantees, offering new opportunities for the use of EU Structural Funds. 
The main benefits of JESSICA
To make Structural Fund support more efficient and effective by using "non-grant" financial instruments, thus creating stronger incentives for successful project implementation.
To mobilise additional financial resources for public-private partnerships and other urban development projects with a focus on sustainability/recyclability.
To use financial and managerial expertise from international financial institutions such as the EIB
EIB involvement in JESSICA is threefold:
Advising and assisting national, regional and local authorities in implementing JESSICA
Promoting the use of Urban Development Funds and best practice across Europe
Acting as a Holding Fund, when requested by Member States or managing authorities.
These investments are delivered to projects via urban development funds and, if requested, holding funds. They must be line with Structural Funds operational programmes agreed for the current programming period.
JESSICA is a policy initiative of the European Commission (EC) developed jointly with the EIB and in collaboration with the Council of Europe Development Bank (CEB). For information about this project's background and regulations please see here.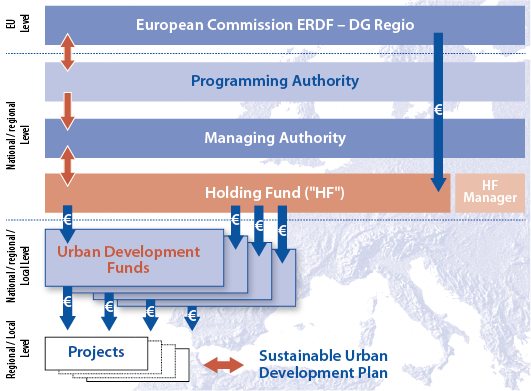 ---
---