Education and training
High-quality education is a prerequisite for economic growth and employment in modern societies. Knowledge and skills promote productivity and boost R&D-intensive and competitive industries.
In 2018, we supported educational projects with EUR 1.7 billion.
Approach
We support investments that increase the capacity and improve the quality of education facilities, especially by upgrading school facilities, backing vocational and other training schemes, or funding student loan schemes or pan-European student mobility programmes. Our lending in the education sector helps to improve the skill sets of young people in the EU and thereby contributes to creating new employment opportunities.
We also support the European Higher Education Area (a more comparable, compatible and coherent system of higher education in Europe) and the European Research Area (a unified and open research area to collectively address Europe's grand challenges), as tertiary education and high quality academic research are key to pushing the knowledge frontier. This involves financial backing for leading-edge universities for reforms targeting the quality and competitiveness of tertiary education at a global level. We also encourage the mobility of students and researchers by supporting relevant national programmes.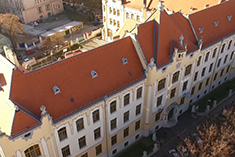 Roads are rebuilt, schools upgraded and cultural centres modernised to fulfil a long-term vision for Bratislava
---
Supported by a EUR 53m loan from the EIB, the University of York campus extension will eventually result in an increase in total student numbers to around 15,000 as well as creating 450 new jobs.
---
---
---
Products
Supporting education and training requires financial products which offer flexibility and expertise to get projects off the ground. At the backdrop of increasing youth unemployment, in mid-2013 we launched the "Skills and Jobs – Investing for Youth" programme. The initiative aims to boost jobs for youth and to enhance youth employability through investment in youth skills, reinforcing the Bank's support for the education sector.
The main financing tools used to support education projects are:
---
---
---