Other publications you may like...
This report provides a detailed and comprehensive breakdown of EIB Group greenhouse gas emissions arising in 2021 from the EIB Group's head office operations in Luxembourg.
How do we learn from SARS‑CoV‑2 to defend humanity from future microbial threats? There must be funds, organisation, perseverance, and strategic thinking. It is complex for sure, but clearly what needs to be done.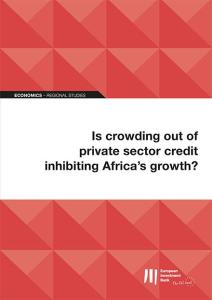 During the pandemic, African banks rebalanced their portfolio towards sovereign assets, and crowding out of credit to private sector intensified. Policy support, however, averted a credit crunch.