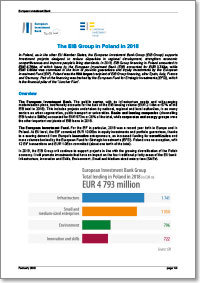 In 2018, EIB Group financing in Poland amounted to EUR 4.79bn, of which loans by the European Investment Bank (EIB) accounted for EUR 3.74bn, while EUR 1.05bn was committed in the form of portfolio guarantees and equity investments by the European Investment Fund (EIF).
Poland was the fifth largest recipient of EIB Group financing, after Spain, Italy, France and Germany.

Part of the financing was backed by the European Fund for Strategic Investments (EFSI), which is the financial pillar of the "Juncker Plan".