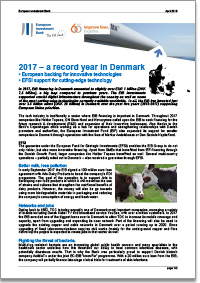 This is an outdated publication. Click here for the updated version.
In 2017, EIB financing in Denmark amounted to slightly over EUR 1 billion (DKK 7,5 billion), a big leap compared to previous years.
The EIB investments supported crucial digital infrastructure throughout the country as well as some of the most cutting-edge technologies currently available worldwide.
In all, the EIB has invested just over 3.5 billion euros (DKK 26 billion) in Denmark over the past five years (2013-2017) supporting European Union priorities.