Gender inequality by numbers
26% lower salaries
for women globally compared to men
USD 12 to 28 trillion
added to global GDP by 2025 if we advance women's equality
980 million women
worldwide have no access to financial services
The EIB Group strategy
Our EIB Group Gender strategy is grounded in our commitment to embedding gender equality in everything we do.
Our 2021-2024 Gender Action Plan has three main pillars:
Protect: we develop procedures and tools to uphold the right of girls and women. We identify and mitigate gender-specific risks, such as violence and harassment.
Safety for women is an important issue in major infrastructure projects, such as the Bangalore metro. The metro is built with the needs of women in mind, with two cars on each train reserved for female passengers only – a vital source of protection when the line is packed.
Impact: we back projects involving services and products that contribute to gender equality and more opportunities for women. We ensure that these projects assess, report on and promote gender equality.
In a telecoms expansion project in Kenya, we created data packages specifically for women, offering reduced transaction costs for mobile data and financial services. These packages included a medical platform providing women with advice on ante-natal and post-natal care.
Invest: directly or through credit lines, we support projects that support women. We also offer EIB clients technical assistance and other incentives that enhance gender equality.
A €100 million EIB loan targets women entrepreneurs and women-led businesses in Greece, supporting more than 7 000 jobs.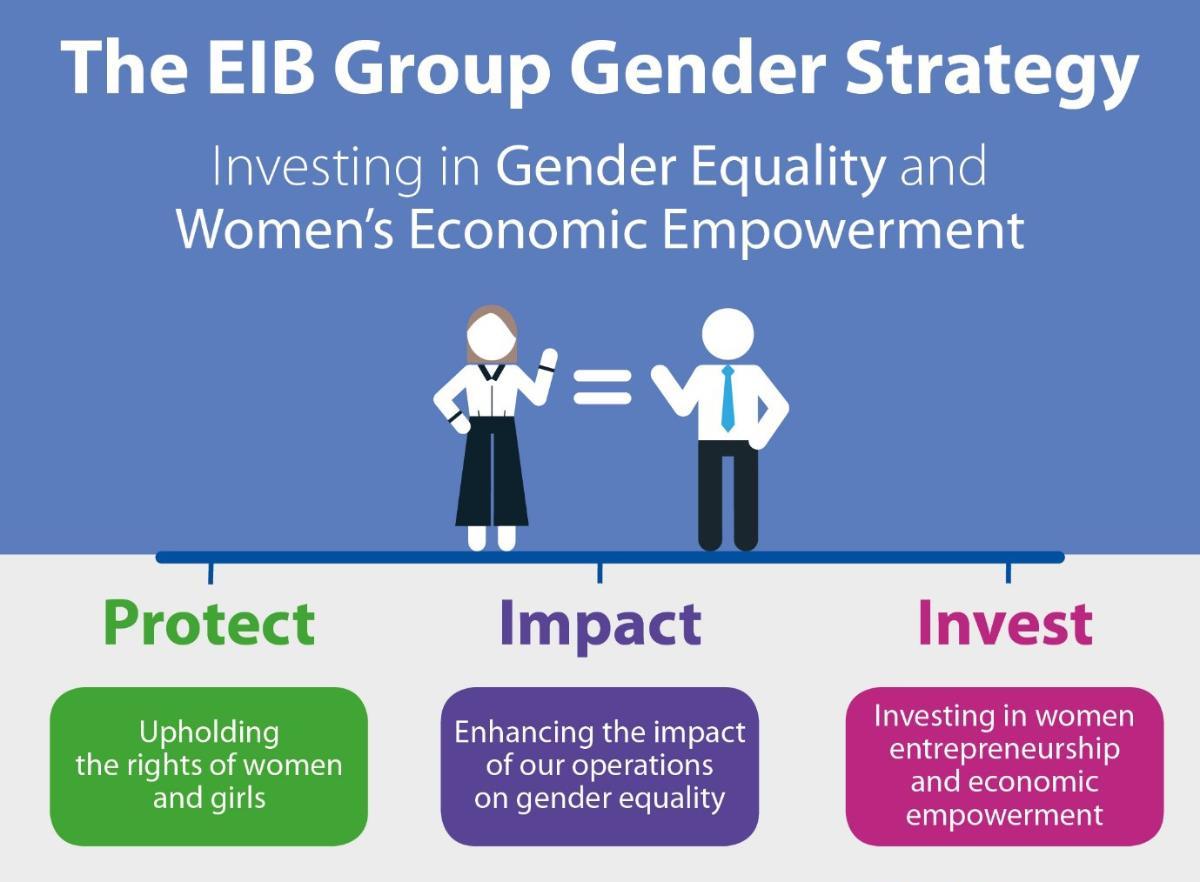 The first EIB Group Strategy on Gender Equality and Women's Economic Empowerment was approved in 2016, triggering a shift in our modus operandi Engagement with civil society groups and industry partners over the past years have provided us with valuable insights during the elaboration of the strategy and the action plan. We look forward to continuing to work together with our stakeholders.
During the Finance in Common Summit in 2020, the EIB Group joined an alliance of 24 other public development banks to commit towards gender equality financing and accountability. Through this declaration, the participating banks recognised their substantive role in the achievement of gender equality inside SDGs, and make a concrete voluntary commitment in the following areas:
Strengthen institutional commitment to gender equality.
Increase accountability and funding on investments in favor of gender equality.
Contribute to the development of a gender-responsive climate change.
Promote dialogue with civil society.
Our organisation also values diversity and inclusion when it comes to its employees, as they are good for people and good for business. Therefore we are committed to gender equality in the workplace and we are proudly part of a group that is certified EDGE ASSESS at the global level. Read more about our certification.
Discover the Diversity and Inclusion 2020 Progress Report: An overview of the Bank's progress towards its diversity and inclusion objectives.