26% lower salaries
for women globally compared to men
USD 12 to 28 trillion
added to global GDP by 2025 if we advance women's equality
980 million women
worldwide have no access to financial services
Our strategy
With the aim to embed gender equality in everything we do, in 2016, we approved the first EIB Group Strategy on Gender Equality and Women's Economic Empowerment. The Gender Action Plan, endorsed in January 2018, guides the implementation of our strategy.
The first phase of our action plan lays the foundations needed to establish shared ownership of the Gender Strategy across the EIB Group and trigger a shift in our modus operandi.
Though global in its relevance and long-term application, the plan reflects the strategy's approach of careful prioritisation to identify incremental milestones over time, with work outside the EU being launched first.
Reflecting the strategy's three thematic areas of action, as well as catering to institutional foundations that must be firmly introduced, the priorities of the first phase of the EIB's plan are as follows:
Protect: develop a fit-for-purpose EIB due diligence framework enabling clients and EIB experts to assess, prevent and mitigate impacts and risks of EIB investments to girls and women
Impact: improve the integration of gender considerations within relevant EIB Group operations, by using gender analysis to identify investment choices and project design features that will enhance equal access to products, services and employment
Invest: identify geographical priorities, suitability of instruments and new business opportunities to support women's economic empowerment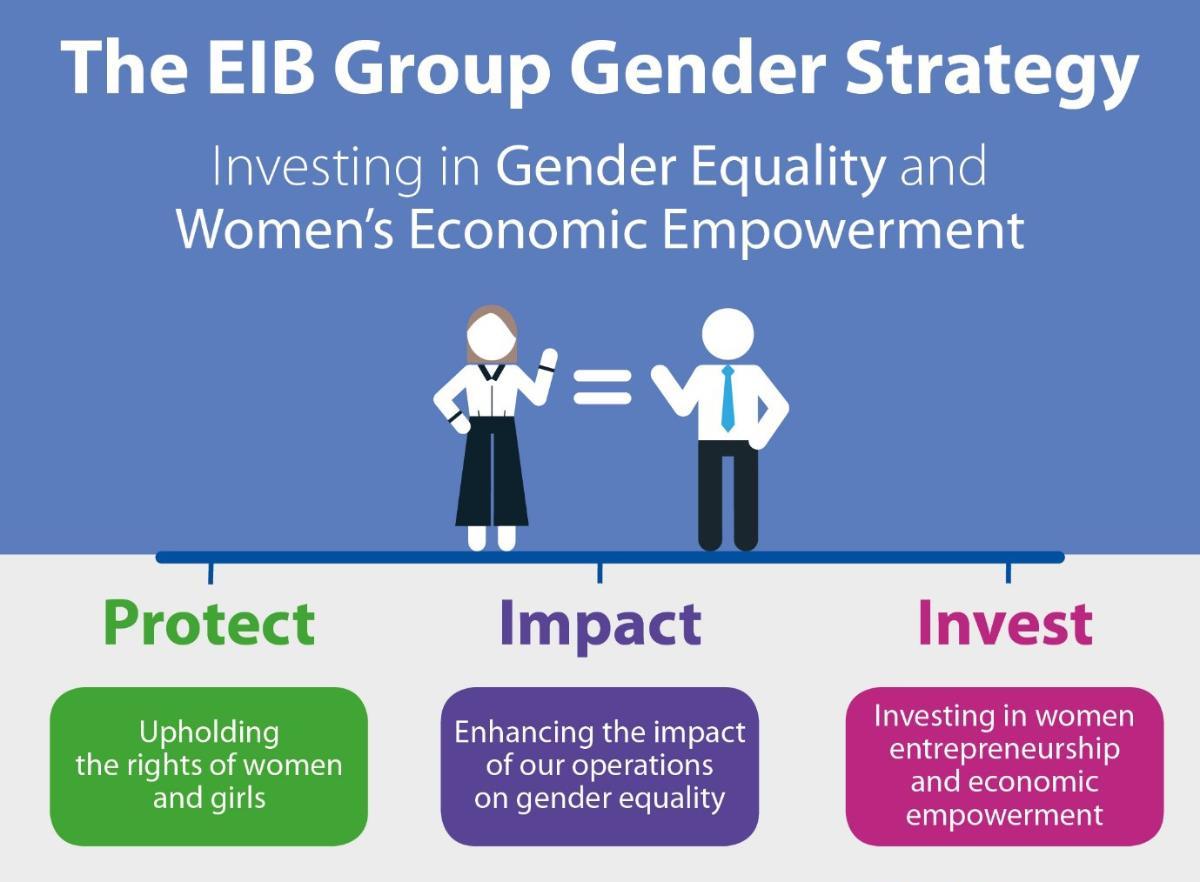 Following its endorsement in January 2018, we embarked on the first phase of this Gender Action Plan. It will be followed by a second phase over the 2020-2021 period.
Engagement with civil society groups and industry partners over the past years have provided us with valuable insights during the elaboration of the strategy and the action plan. We look forward to continuing to work together with our stakeholders.
During the Finance in Common Summit, the EIB Group joined an alliance of 24 other public development banks to commit towards gender equality financing and accountability. Through this declaration, the participating banks recognise their substantive role in the achievement of gender equality inside SDGs, and make a concrete voluntary commitment in the following areas:
Strengthen institutional commitment to gender equality.
Increase accountability and funding on investments in favor of gender equality.
Contribute to the development of a gender-responsive climate change.
Promote dialogue with civil society.
Our organisation also values diversity and inclusion when it comes to its employees, as they are good for people and good for business. The EIB Group is committed to gender equality in the workplace and is proudly part of a group that is certified EDGE ASSESS at the global level. Read more about our certification