What InnovFin products are available and who can benefit from them?
With InnovFin – EU Finance for Innovators, the EIB Group (the European Investment Bank and the European Investment Fund) can provide financing starting at EUR 25 000 for investments in research and innovation (R&I) to companies and other entities of all sizes and age.
If you are a start-up, a small or medium-sized enterprise (SME), a mid-cap, a larger private company, a research institute/organisation, university or an R&I-driven entity, the EIB Group has a financing solution for your R&I needs.
Looking for the InnovFin interactive tool? We are currently updating the tool to include the newest products: InnovFin Science, InnovFin Emerging Innovators and InnovFin Corporate Research Equity. In the meantime find out more about the InnovFin products in the list below.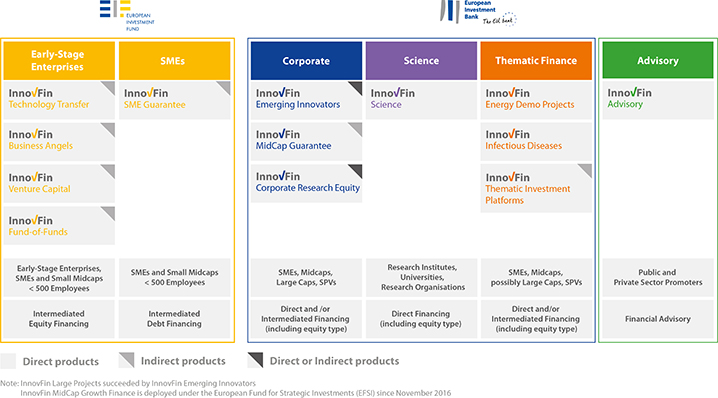 ---
Start-ups and SMEs financing
---
---
---
---
Intermediated financing
Mid-caps < 3 000 Employees
---
---
---

---
---
---
---
---

---
Intermediated financing (including equity-type) through investment platforms focused on specific thematic areas
SMEs, mid-caps and large caps as well as SPVs
---
---
---
---
The InnovFin products are subject to regular updates to reflect market evolution. For information on previous InnovFin products, please click here.
---
---