Climate action
Climate action
As the largest multilateral provider of climate finance worldwide, we are committing at least 25% of our investments to climate change mitigation and adaptation, supporting low-carbon and climate-resilient growth.
In 2018, the European Investment Bank exceeded its climate action target for the ninth year running, providing EUR 16.1 billion to fight climate change. That's over 29% of all our financing.
Our climate strategy defines our mission: to play a leading role in mobilising the finance needed to achieve the worldwide commitment to keep global warming below 2˚C.
Unaudited data
Committed to climate action
Impact and projects
Discover some examples of how we are helping fight climate change all over the world:
The wind farm at Langmarken, Sweden, will be quite unique. Not because of the turbines – manufactured by Denmark's Vestas, they will be much like any other when construction is completed. It's the financing of the 23 MW onshore facility that is innovative. By sharing risk the EIB draws private money to climate finance projects alongside public funds.
---
---
When city populations grow quickly, transport infrastructure can become overcrowded and unsafe, and air pollution rises as well as emissions of CO2. The Lucknow Metro will counter those effects by boosting the share of its population using public transport to 27% from 10%. The EIB's EUR 450m loan for the first 23 km of the line is the Bank's biggest ever in India.
---
---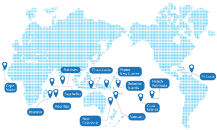 Small islands are among the most vulnerable to the effects of climate change. Explore in this interactive map how the European Investment Bank is helping them adapt to climate change and mitigate its effects.
---
---
In spring 2015 the extreme weather conditions severely damaged the dykes in Antananarivo, the capital of Madagascar, that were supposed to keep the population safe. Now, a EUR 40 million loan by the EU bank is helping to reinforce this key infrastructure.
---
---
---
Together on climate
As the EU bank, the European Investment Bank works with companies, think-tanks, not-for-profit organisations, public authorities and other international financial institutions to put EU climate goals into practice both outside and inside Europe. Discover how.
---
In the spotlight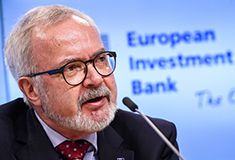 In a guest contribution for Handelsblatt, EIB President Werner Hoyer argues that climate protection and a sustainable economy create many new jobs.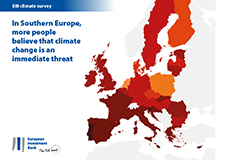 Discover our a first-of-its-kind worldwide climate survey assessing citizens' perception of climate change and their expectations in terms of political action to mitigate or adapt to it.
All of our climate action work aims to put EU climate policy objectives into practice and is guided by our climate strategy.
Climate finance pioneer
We are partnering with others to unlock further investment in climate and environmental projects.
We finance large projects with direct project loans whereas we support smaller projects indirectly, through credit lines to local banks or other intermediaries, and we finance programmes of investments through our urban programme loans. We complement our traditional lending with innovative finance products:
---
---
---
We back projects that protect the environment our children will live in while we innovate to make their future more prosperous. In line with our responsible approach to investment, environmental concerns are reflected in all our projects.
In 2018, the EIB financed EUR 15.15 billion in projects enhancing environmental protection.
---
---
---
---