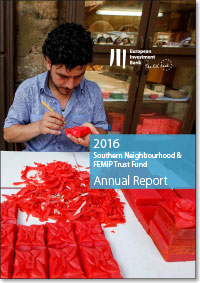 Click here for the newest edition of this publication.
Description
As a key financier in the Southern Neighbourhood region during 2016, the European Investment Bank continued to address the challenges of the region in support of the European Union's development policies.
Sixteen new loan operations worth EUR 1.6bn were signed, with a strong focus on the private and environmental sectors, both parts of the high level objectives of the 2014-2020 External Lending Mandate.
Since its creation in 2004, the FEMIP Trust Fund (FTF) has been supporting and enhancing the development impact of the Bank's activities in the Mediterranean region.
To achieve this goal, the Bank relies on the continuous support of FTF Donors for financing projects in the four priority sectors of the FTF, namely:
Finance and micro small and medium-sized enterprises;
Infrastructure;
Environment;
Human capital,
Research and development;
Innovation.
The FTF plays an active role in providing backing for projects through risk capital support, aid with project preparation and implementation of technical assistance instruments.