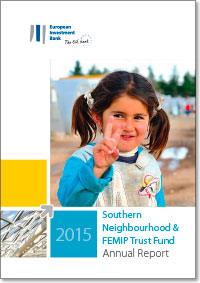 Click here for the newest edition of this publication.
Description
The Southern Neighbourhood and FEMIP Trust Fund annual report highlights the main results achieved by the EIB in 2015 in terms of lending operations and technical assistance and looks ahead at the future FTF objectives in the Southern Neighbourhood partner countries. In 2015 the EIB continued to be the leading financier in the EU Southern Neighbourhood with a total amount of lending of EUR 1.4bn. 50% of signatures in the region supported climate action, primarily in the energy and transport sectors, with the remainder coming from the water sector and credit lines. The EIB intends to maintain its role as one of the leading financiers in the region with a focus on two core areas of activity: infrastructure financing and support for the private sector.
The FEMIP Trust Fund continues to support the lending activities of the EIB in the Southern Neighbourhood region by financing technical assistance, capacity building support, upstream studies and risk capital operations. A number of Bank infrastructure projects vital for economic growth in the region benefited from the FTF financing during 2015, in particular project preparation and implementation were supported through technical assistance. In total, five new operations were approved by FTF amounting to EUR 3.6 million of which EUR 1.6 million was dedicated to support climate activities under the CAMENA envelope.