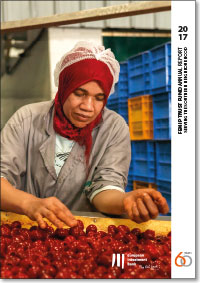 Click here for the newest edition of this publication.
Description
The FEMIP Trust Fund (FTF) aims to address investment gaps by directing resources to operations in priority sectors, which can be enhanced through the provision of technical assistance or made financially viable via risk capital. The priority sectors include:
access to credit for SMEs and mid-caps;
infrastructure, including projects in the transport, energy and water sectors;
environment, including support to projects combating the causes and effects of climate change;
human capital, research & development (R&D), and innovation.
Mobilising EUR 66.4m of donor resources since 2004, the FTF has financed 77 grant operations in the Middle Eastern and North African (MENA) countries, leading to EUR 630m of EIB blended operations that support total investment of EUR 1.35bn.
Thanks to the continuous support of 16 EU Member States and the European Commission, in 2017 the FTF approved EUR 9.9m of grant operations, the largest in any given year to date. The FTF has been a key player in the partnership between the EU and Mediterranean partner countries, as part of the process of encouraging political and economic renewal in the Southern Neighbourhood region.