We support small businesses for growth, innovation and jobs
SMEs and mid-caps
Small and medium-sized enterprises (SMEs) are important drivers of growth, innovation and employment in Europe. SMEs represent 99% of businesses in the EU and employ two thirds of the active working population. Supporting access to finance for SMEs and mid-caps is a top priority for the EIB Group.
Our impact in 2018
In 2018 alone, the EIB Group financed SMEs and mid-caps across the globe to the tune of EUR 23.3 billion (EIB Group). We supported 374 000 smaller companies, which employ 5 million people.

The EIB cooperates with a wide range of financial intermediaries that offer financial products targeting small and medium-sized companies (also including micro-enterprises). We benefit from our partners' expertise, local knowledge and proximity to the businesses themselves.
Can we help you?
Through our intermediaries, the EIB provides financing to:
micro-enterprises (0-9 employees)
small enterprises (10-49 employees)
medium-sized enterprises (50-249 employees*)
mid-caps (250-3 000 employees*)
Are you an SME or mid-cap looking for finance?
Are you a financial institution willing to partner with the EIB Group?
Please visit our dedicated pages for the main product categories:
EIB's activity towards SMEs and mid-caps is typically more focused on delivering financial support (mainly funded) to established enterprises, mostly in the growth or maturity stages.
The EIF typically concentrates on supporting enterprises in earlier stages of growth and the provision of guarantee schemes.
In the spotlight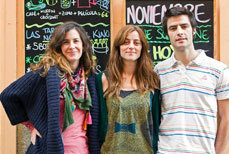 Explore the network of local partners supported by the EIB in your country or region – our financial intermediaries.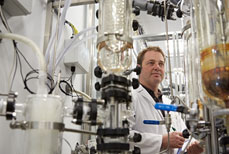 Are you an innovative European business looking for finance? Do you intend to invest in research and innovation (R&I)? Discover how InnovFin can help you.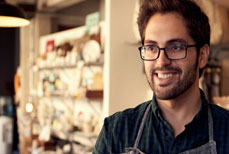 In 2016, the EIB Group again delivered record levels of finance for SMEs and mid-caps with EUR 33.7bn of new operations signed.
There is nothing funny about banks!
Or at least there wasn't, until now. The EIB commissioned Madis Ots, a one-man SME from Estonia, to illustrate some of the challenges that SME's, particularly start-up companies, face when trying to access finance. The result: Welcome to...
A hedgehog, a rabbit and a wolf are trying every week to get the bear to finance them (plus assorted antics). Enjoy it until it runs out of financing!
---
---
Our stories
Small businesses are the engine of the EU economy, employing 2 out of 3 Europeans. What challenges do small and medium-sized enterprises (SMEs) face, and how can the EIB Group help address them? This video will include interviews of experts and entrepreneurs.
Patrick Schreven, founder of ORGA bouw in the Netherlands, is specialised in bio-based construction. He gets his inspiration from nature to build houses, farms and offices integrated in its natural environment. A micro-loan from Qredits, an EIF partner bank enabled Patrick to start his construction company in the midst of the economic crisis.
In Bilbao, Spain, budding interior designer Elisabete Azkoaga has been able to turn her dream of opening up her ideas to a wider public thanks to the help of a EUR 15 000 loan from EIB partner bank, Microbank. A friend helped her take the right decision.
Our approach
The EIB Group continuously works to strengthen its support for SMEs and mid-caps. We work together with EU Member States and public promotional institutions to develop innovative products and partnerships that facilitate access to finance for SMEs and mid-caps at all stages of their development
Together, the EIB and EIF mobilise financial and technical expertise to act as a catalyst for investment in this essential economic sector to achieve smart, sustainable and inclusive growth.
For additional sources of EU finance for SMEs and midcaps please visit the Your Europe portal.
---
---