EIB Investment Report
The EIB Investment Report is designed to serve as a monitoring tool providing a comprehensive overview of the developments and drivers of investment and its finance in the EU. It combines an analysis and understanding of key market trends and developments, with a more in-depth thematic focus. It brings together internal EIB analysis and collaborations with leading experts in the field.
The report incorporates the latest results from the annual EIB Investment Survey, covering some 12 500 firms across the EU and a wide spectrum of questions on corporate investment and investment finance.
What's new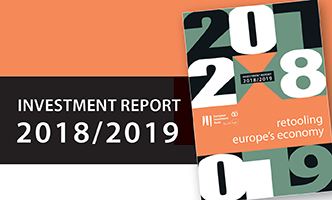 The EIB Investment Report 2018/2019: retooling Europe's economy addresses a moment of economic recovery in which investment growth, overall, is strong, but downside risks to the economic outlook are rising. It identifies many ways in which current investment is still structurally inadequate, given the legacy effects of the recent crisis and the great challenges that lie ahead.
No time to read the report?
---
---