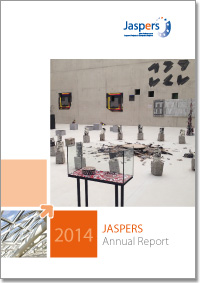 Click here for the newest edition of this publication.
Description
In 2014 JASPERS, the partnership between the European Commission's DG Regional and Urban Policy, the European Investment Bank (EIB) and the European Bank for Reconstruction and Development (EBRD), continued to support the preparation of major projects to be submitted for grant financing under the Structural and Cohesion Funds on behalf of the 14 beneficiary EU Member States (Bulgaria, Croatia, Cyprus, Czech Republic, Estonia, Greece, Hungary, Latvia, Lithuania, Malta, Poland, Romania, Slovakia and Slovenia) and three candidate countries (former Yugoslav Republic of Macedonia, Montenegro and Serbia).
2014 marked a transition year between the old Cohesion Policy of the 2007-13 programming period and the new 2014-20 period. JASPERS worked on assignments related to the completion of project submissions for the old period alongside the preparation of projects for the new period. All major project approvals by the European Commission in 2014 concerned the use of funds from the 2007-13 period.
In 2014 the Commission approved 79 applications for funding of major projects, compared to 86 in 2013, for a total investment cost of almost EUR 1.5bn, of which over EUR 1bn of EU grants.
The total investment cost for major projects supported by JASPERS which were approved by the Commission between 2007 and 2014 was EUR 66.4bn, of which EU grants accounted for EUR 38.9bn.