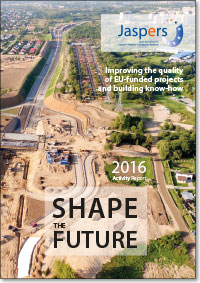 Click here for the newest edition of this publication.
Description
The 2016 Activity Report provides an update on JASPERS' independent expert advice and capacity building support to public authorities and final beneficiaries of projects to be funded by the European Structural and Investment Funds (ESIFs) for the Member States.
In 2016 JASPERS continued to be a key part of the EIB's advisory offer, delivering a wider range of outputs in more countries than ever before. JASPERS continued to operate under three different mandates from the European Commission: its main mandate from DG Regional and Urban Policy for investments funded by the Structural and Cohesion Funds, the IPA mandate from DG Neighbourhood and Enlargement Negotiations and Connecting Europe Facility mandate from DG Mobility and Transport.
In 2016 JASPERS completed 127 assignments for all mandates. A total of 61 JASPERS-supported projects were approved in 2016 by the European Commission, with a total project cost of EUR 11.6 billion and total EU grant support of EUR 6.8 billion.
Upon requests from the Member States concerned, in 2016 JASPERS advisory services were extended to the United Kingdom, Ireland and Spain, thus bringing to 19 the number of EU countries in which JASPERS provides advice on project development with the objective of making maximum use of Structural and Cohesion Funds.
Linked to the support for project preparation, JASPERS helps to strengthen the administrative capacities of public authorities. Important new areas of activity in 2016 included multi-country and in-country capacity building activities, provided through the JASPERS Networking Platform to all EU Member States and Candidate Countries.