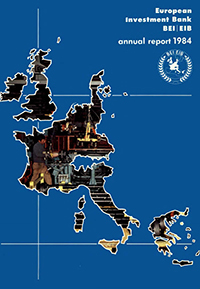 Description
The Annual Report 1984 is mainly compressed of the EIB's financial results this year in the form of financial statements, treasury and borrowing activities, the audit and explanatory annexes.
The document presents an insight into the various EIB activities of the same year and a brief of future prospects.
Furthermore, the report includes an account of the financed projects that the EIB undertake and related statistical summaries of these activities.
[Please note the attached PDF is a scanned version of the document. The quality is the best possible and the size of the file is high due to the scanning resolution.]