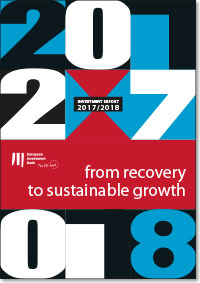 Description
The EIB Investment Report is the bank's flagship research report, aiming to deepen our understanding of investment and investment financing in the EU. It presents and analyses the new 2017 release of the EIB Investment Survey (EIBIS) of businesses in the EU, which this year also includes a Europe-wide survey of municipal authorities.
Following a theme of "From recovery to sustainable growth", it describes how the investment recovery in Europe continues to strengthen and become more broad-based, across countries, sectors and asset classes. Business investment is being driven by the improving outlook and efforts to keep pace with competitors, but there is still need to improve business environment.
This investment recovery is generally supported by good financing conditions for firms, but deleveraging remains a drag. EU firms continue to be net savers overall, suggesting that many firms are unwilling to invest despite a liquid financial position.
Nonetheless, with the improving economy there also emerge structural investment needs in innovation, skills, infrastructure and sustainability. The EU continues to fall behind global peers in terms of R&D spending, while other types of intangibles – software, training, organisational capital, etc. – prove to be just as important. Business environment has to improve further. Persistent financial fragmentation across the EU could slow convergence and reduce capacity to absorb shocks. This report indicates that there is a window of opportunity to address structural investment needs through both public and private investment, with targeted policy intervention to ease specific constraints.