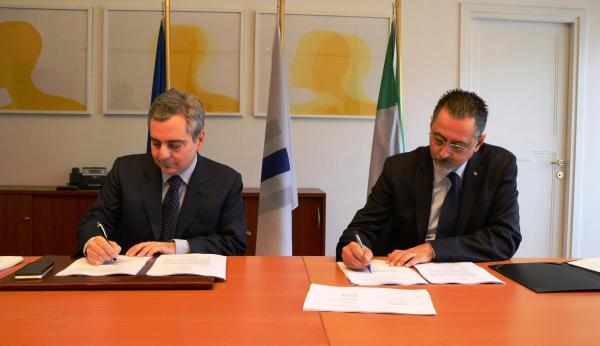 Today in Rome two loans were signed between the European Investment Bank (EIB) and the Basilicata Region in support of new projects worth EUR 1.3 billion throughout the Region. The EIB was represented by Vice-President Dario Scannapieco and Basilicata by its President, Marcello Pittella. The two loan operations concern the fight against hydrogeological instability and the implementation of the Regional Operational Programme (ROP).
Hydrogeological instability: EUR 250 million. Basilicata's programme to curb the effects of hydrogeological instability will cost EUR 500 million in the coming years. The EIB will bear 50% of the cost of this programme via an aggregate credit line of EUR 250 million, the majority of which (EUR 223 million) is being signed off on today. The term of the loan is 25 years. The funds will be deployed throughout Basilicata to improve safety standards and protect the Region against the potential impact of climate change.
ROP 2014-2020. Basilicata's ROP for the 2014-2020 programming period will cost around EUR 800 million, co-financed by a number of parties. The largest share, corresponding to 50% of the total, will be provided by the European Commission from the ERDF (European Regional Development Fund). The ERDF contribution can only be activated simultaneously with that of the Italian Republic (35%) and the Region itself (15%). The EIB loan covers the finance required by Basilicata for the ROP: EUR 120 million, a figure that is being fully signed off on today. Specifically, the ROP projects in Basilicata will concern multiple sectors. There are nine priority areas: R&D, digital agenda, competitiveness, energy and urban mobility, environmental protection, transport and infrastructure, education and technical assistance.
"For many years I have drawn attention to the need for greater project capacity in the south of Italy. I am therefore particularly proud of the two operations with Basilicata that we are announcing today", said EIB Vice-President Dario Scannapieco, "firstly because of the considerable level of investment vis-à-vis the Region's GDP but also thanks to the quality of projects which, as the European Union's bank, we are helping to implement in a Region that is not without difficulties."
According to the President of the Basilicata Region, Marcello Pittella, "this agreement opens up great opportunities and gives an immediate boost to our Region's economy. Furthermore, it will help us to quickly implement the projects planned over the course of the EU's new programming period, so enhancing the quality and effectiveness of our spending. However, the agreement is also the result of our collaboration with the EIB, which recognises that the Basilicata Region has sufficient authority and administrative capacity to meet the challenges facing it."