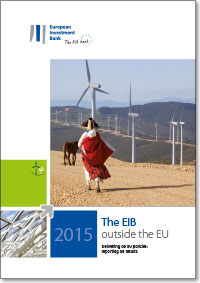 Click here for the newest edition of this publication.
Description
The 2015 report on The EIB outside the EU presents the EIB's activity in the past year, delivering EU policies beyond Europe's borders: in Pre-accession countries, African Caribbean and Pacific countries, Eastern neighbours, Mediterranean partner countries, Asia and Latin America. It presents the results of completed projects as well as the expected results of new lending.
This year's report is the fourth since the introduction of the Results Measurement (ReM) framework which is used for keeping track and reporting of EIB projects results outside the EU.