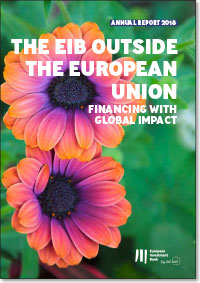 Click here for the newest edition of this publication.
Description
The European Investment Bank fights climate change, reduces poverty, creates jobs and promotes equality. We support a multitude of investment projects around the world on behalf of all European Union countries.
The EIB outside the European Union: Financing with global impact details more than 100 projects that will improve water and sanitation for 12 million people, produce enough clean electricity for 30 million homes and support businesses that provide a quarter of a million jobs.
With long-term financing and technical advice, we bridge many market gaps. Partnerships are essential to increase this impact. When we join together, we maximise our unique work as part of the EU family.