The EIB in the circular economy
Leading the way to sustainable growth
The European Investment Bank (EIB) is a major partner for circular economy (CE) investments in the EU. During the last five years we have provided EUR 2.1 billion of co-financing for circular projects, with a positive impact on sustainable and economic growth, competitiveness and employment.
See our projects
Take a look at the stories behind some of our recent CE projects.
Get finance
Find the right financing for your CE project's needs.
Get advisory support
We advise on structure and bankability of your CE projects.
Read more about our approach
Why we finance circular projects
Promoting a circular economy, where the value of products, materials and resources is maintained in the economy for as long as possible, and the generation of waste minimised, is a key EU policy priority. The EIB joins forces with the European Commission and supports Member States in their transition towards a circular economy by providing finance and advisory for CE projects.
What types of circular projects are eligible for EIB financing?
Circular economy projects are generally eligible for EIB financing as they support the following EIB priorities:
Climate action and environment – Circular economy projects typically reduce resource consumption and waste generation which results in lower greenhouse gas emissions.
Innovation and skills - Circular economy projects may be innovative in products, production processes or business models.
Small and medium-sized businesses (SMEs) - SMEs play a key role in the transition to a circular economy as they are an important source of innovation and represent over 99% of all businesses in the EU.
More specifically, we are looking for circular economy projects that:
substitute virgin with secondary materials
reduce waste generation in production and consumption by closing material loops
extend the use and life of assets and products
recover value from waste, by-products and wastewater
How we finance circular projects
EIB offers a range of project loans, risk-bearing financial instruments and financial support for funds, as well as financial and technical advisory services.
Our products range from direct loans for projects of a minimum size of EUR 15m to indirect credit lines to local banks and other intermediaries, particularly targeting SMEs and midcaps.
CE projects with medium to high risk profiles may be accommodated under the European Fund for Strategic Investments (EFSI), InnovFin and other special financial instruments with higher risk-taking potential.
Take a look at our publications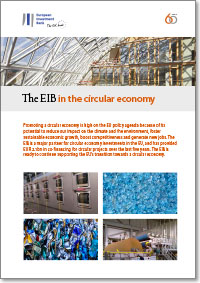 This publication presents why the circular economy is relevant to the EIB, and why the EIB is relevant in the transition to a circular economy.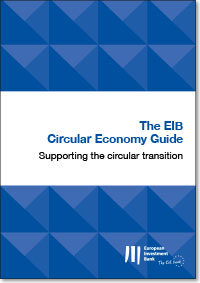 The EIB supports the transition to the circular economy. This guide explains why – and how that can be achieved.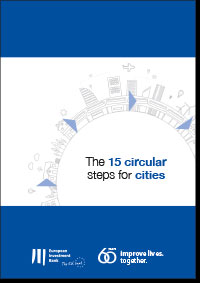 This document outlines problems facing many linear cities today, and argues the case for circular change.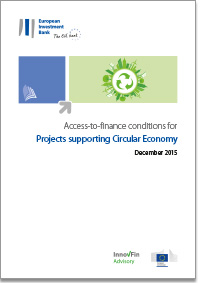 Assessment of access-to-finance conditions for projects supporting Circular Economy
---
---
---