Together on infrastructure
The link between climate, development and infrastructure is indelible and engrained in the Sustainable Development Goals. The EIB's activities foster this holistic approach to development finance.
In March 2016, the EIB signed its biggest-ever loan in India for the construction of a new Metro in Lucknow, the capital of the sub-continent's most populous state. The Metro will increase use of public transport in Lucknow from 10 to 27%. This infrastructure project will make a vital contribution toward the city's development and represents an important step in the battle against climate change.
Building sustainable infrastructure also touches on innovation. The EIB last year signed a EUR 20 million loan to build high-speed internet access in Angola, and we are appraising a potential EUR 40 million loan to roll out a mobile telecommunications network in Mali.
The EIB is already delivering on infrastructure, development, climate action and innovation. And with our MDB partners, we can achieve even more.
---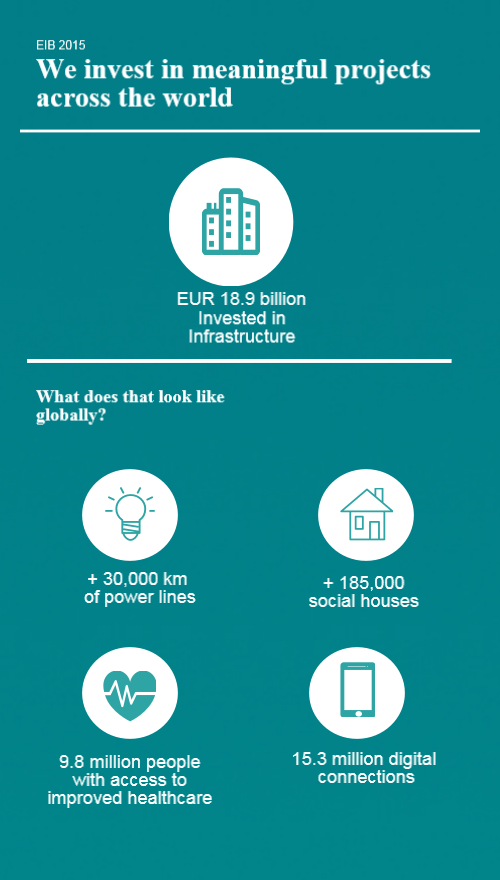 ---
---
---
A new instrument is changing the way the EIB operates in some of the world's most disadvantaged regions. This is the Impact Financing Envelope. One of our first investments was in the innovative East Africa Fund. Hundreds of thousands of smallholder farmers in Kenya can benefit from a mobile application which brings market information to their fingertips. The Fund backed the company that developed this.
---
---
---
---
---
---