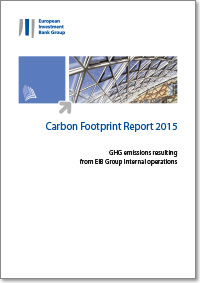 Click here for the newest edition of this publication.
Description
You cannot manage what you don't measure. The EIB Group has been measuring and managing its internal carbon emissions since 2007. The Carbon Footprint Report provides details of not only how and what the EIB Group measures, but the actions the Group takes to further reduce its emissions resulting from its own internal operations.
Since 2014, the EIB Group  uses a REDD+ project that has enabled to compensate its 2013 and 2014 residual emissions resulting from its own operations. The EIB Group will compensate its 2015 residual carbon footprint through the same project.