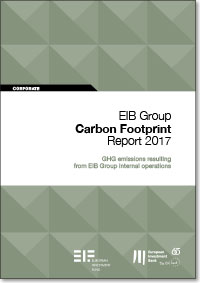 Click here for the newest edition of this publication.
Description
"If you can't measure it, you can't improve it." Peter Drucker
The EIB Group is celebrating over 10 years of reporting on the environmental impact of its operations, which it started in 2007. Over the last decade, the EIB has undertaken a number of initiatives to improve disclosure and reduce the environmental impact of its internal operations.
In 2017, the number of EIB Group staff increased by 11.9%, whilst our total net emissions are growing at a slower rate of 8.8% to 22,024 tCO2e. The continued growth of our business resulted in more business travel activity and notably more flights, which have risen concurrently. Several other emissions sources linked to employee numbers also increased in 2017, such as commuting and minibus emissions.
Despite continued growth in employee numbers creating an increase in total net emissions, we are pleased to report a further reduction in our emissions intensity, which fell by 2.8% to 5.98 tCO2e per employee. Though EIB Group employee numbers have more than doubled since our baseline year, emissions intensity has almost halved in the same period and the continued reduction in the emissions intensity of our operations means we remain well ahead of our target to reduce relative emissions by 20-30% by 2020.