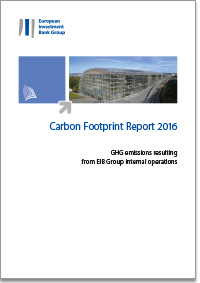 Click here for the newest edition of this publication.
Description
The EIB Group has been measuring, managing and reporting its GHG emissions resulting from its own internal activities since 2007. This Carbon Footprint Report details the GHG emissions, which not only shows how and what the measures, but the actions that the EIB Group takes to continue reducing.
Since 2014, the EIB Group uses a REDD+ project that has enabled to compensate residual emissions resulting from its own operations. In 2017 the EIB Group will conduct a review of the emission credits market to continue to compensate its residual emissions using the best available credits available on the market. The EIB Group plans to compensate the 2016 GHG emissions and beyond using the selected carbon credits.
"If you can't measure it, you can't improve it." Peter Drucker.