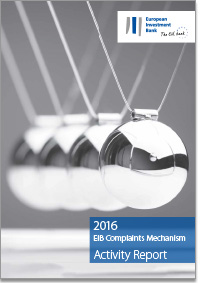 Click here for the newest edition of this publication.
Description
This Activity Report 2016 is prepared in accordance with the EIB Complaints Mechanism (EIB-CM) Principles, Terms of Reference and Rules of Procedure as approved by the EIB's Board of Directors. It includes the EIB related cases dealt with by the European Ombudsman who also releases its own Annual Report, covering all EU Institutions and bodies.
The 2016 EIB-CM Activity Report outlines the activities performed and includes:
A statistical analysis of handled complaints, including the complaints lodged with the European Ombudsman against the EIB;
Examples of cases and themes;
Dialogue with Civil Society Organisations both within and beyond the EU framework;
Inter-institutional cooperation with Accountability Mechanisms of other International Financial Institutions.
During 2016, of the 82 complaints submitted, 77 new cases were registered as admissible. In addition, seven new cases were lodged by citizens with the European Ombudsman in relation to EIB activities.
Despite an increase in the number and complexity of complaints, this 2016 edition of the Activity Report demonstrates that the EIB Complaints Mechanism continues to function in an independent, transparent and effective manner.
The EIB-CM has been active in the Network of the
IFIs' Independent Accountability Mechanisms
, identifying trends, sharing experiences and lessons learnt as well as to identify and formalise collaboration, notably in complaint cases in co-financed projects.