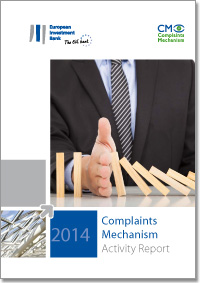 Click here for the newest edition of this publication.
Description
The EIB Complaints Mechanism Activity Report 2014 was prepared in accordance with the EIB-CM Principles, Terms of Reference and Rules of Procedure as approved by the EIB's Board of Directors. It includes the EIB related cases dealt with by the European Ombudsman who also releases its own Activity Report, covering all EU Institutions and bodies.
The 2014 EIB-CM Activity Report outlines the activities performed and includes:
An overview of its Principles, Functions, Policies and Procedures, Resources and Organisation;
A statistical analysis of complaints handled, including the complaints against the EIB brought to the European Ombudsman;
Some examples of cases and themes;
International and inter-institutional co-operation with peer Accountability Mechanisms of other International Financial Institutions and Multilateral Development Banks;
Inter-institutional co-operation, within and beyond the EU framework, and dialogue with Civil Society Organisations.
The trend, of last years, of a large number of cases with an increased degree of complexity, continued in 2014, the EIB-CM was, however, again able to reduce its stock of outstanding complaints at the end of the year. In 2014, the efforts continued to handle complaints within the timeframe set by the EIB-CM Operating Procedures. During the year, 103 cases were handled; closing 68 and leaving 35 cases open at the end of the calendar year.
The EIB-CM has been effective in identifying and addressing legitimate complaints in cases closed in 2014. In 31% of the cases, EIB-CM found no grounds for the complaint. In 20% of the cases, areas for improvement have been identified and in 16% of the cases a friendly solution was found. 10% of the cases were handled/resolved together with the EIB services involved. The remainder of the cases were either dropped by the complainant, inadmissible (after registration) or the financing request was dropped by the promoter.
In 2014, four cases were escalated to the European Ombudsman and one new (staff) case, was brought directly to the EO. In 2014, the EO closed six cases that had been brought against the EIB, one with maladministration found and a critical remark, one with a draft recommendation, one with a further remark, two with no maladministration found, of which one with a friendly solution, and one that was referred back to the EIB-CM.
The EIB-CM has been active in the Network of the IFIs' Independent Accountability Mechanisms, identifying trends, sharing experiences and lessons learnt as well as to identify and formalise collaboration, notably in complaint cases in co-financed projects.