Asia and Latin America
EIB lending in Asia and Latin America (ALA) started in 1993 and is governed by mandates from the European Union (EU). Under the current mandate ALA, covering the period 2014-2020, the EIB is authorised to lend up to EUR 3.4bn for operations supporting the EU cooperation strategies and complementing other EU development and cooperation programmes and instruments in these regions.
The EUR 3.4bn regional ceiling is broken down into indicative sub-ceilings of EUR 2.3bn for Latin America, and EUR 1.1bn for Asia (including EUR 182m for Central Asia). There are no amounts allocated per country.
Since the start of our operations in the region, in 1993, the EU has invested a total of EUR 17.2 billion in Asia and Latin America, mainly to support the energy sector, smaller businesses and sustainable transport, with a particular focus on climate change adaptation and mitigation.
The countries currently eligible for EIB financing under the ALA 2014-2020 mandate are:
Latin America
Argentina, Bolivia, Brazil, Chile, Colombia, Costa Rica, Ecuador, El Salvador, Guatemala, Honduras, Mexico, Nicaragua, Panama, Paraguay, Peru, Uruguay, Venezuela.
Asia
Bangladesh, Bhutan, Brunei, Cambodia, China, India, Indonesia, Iraq, Laos, Malaysia, Maldives, Mongolia, Myanmar/Burma, Nepal, Pakistan, the Philippines, Singapore, South Korea, Sri Lanka, Thailand, Vietnam, Yemen
Central Asia
Kazakhstan, Kyrgyzstan, Tajikistan, Turkmenistan, Uzbekistan
Priority projects
The EIB gives priority to the following types of projects in these countries: 1) climate change mitigation and adaptation (e.g. renewable energy, energy efficiency, urban transport and other projects that reduce CO2 emissions); 2) development of social and economic infrastructure, including water and sanitation; 3) local private sector development, in particular support to SMEs. In addition, to be eligible for Bank financing, projects are required to have good potential to contribute to the economic development of the beneficiary country.
Projects with a total investment above EUR 25m can be financed either directly to a project promoter or indirectly through a government or financial intermediary. Project promoters are required simply to provide the Bank's Operations Directorate with a detailed description of their capital investment together with the prospective financing arrangements. The total investment of a typical project under the ALA 2014-2020 mandate is above EUR 40m.
For smaller projects the EIB can provide credit lines to selected financial institutions, which then on-lend the funds mainly to small and medium-sized enterprises (SMEs). The financial institutions assess each project, assume the credit risk and set the loan conditions for the final beneficiary according to criteria agreed with the EIB. Interested promoters of such projects should contact the banks and intermediaries directly.
Beijing makes a big move into the green bond market — and gets support from the EU bank
---
---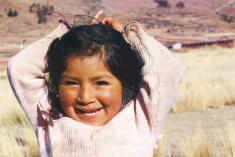 One year after a deadly earthquake, work on long-term rebuilding is in full swing. We met the Ecuadorian team that's making it happen
---
---
---
---