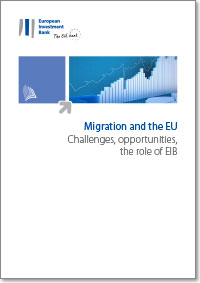 Description
The refugee crisis presents an urgent challenge to European policymakers, one that also needs to be seen within the broader context, policy challenges and opportunities created by all kinds of migration. Drawing on the most recent studies and analysis, this study examines both short and long term impacts of migration flows, analysing:
the magnitude and the composition of migration flows to Europe;
implications of migration on Europe's labour market (and whether migration can be an opportunity for certain parts of Europe, in certain economic sectors);
the potential role of migration in addressing long-term growth challenges.
This paper calls for a common set of definitions and approaches to measure what is needed in Europe's labour market and what can be done in the EU neighbourhood and other emerging markets. It also describes EIB activities in relation to migration, both in the EU and outside Europe, and discusses what further role the EIB might play in partnership with other actors.