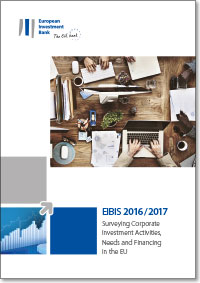 This report provides a comprehensive overview of the business investment situation in the EU using data from the 2016 wave of the EIB Group Survey on Investment and Investment Finance (EIBIS); a unique, EU-wide, annual survey of more than 12 500 firms.
The report covers questions such as what is happening to business investment in the EU. What are firms' investment needs? What are the drivers of firm investment decisions? Are there barriers to firm investment? And if so: are they the same for different types of firms, different sectors and/or countries?
The report shows a strengthening in the business investment cycle, but also highlights investment gaps. Specifically, the analysis suggests an under-investment in the quality of firms' capital stock. In other words, firms' are increasingly concerned about keeping up with the technological frontier. In terms of barriers to investment: uncertainty; lack of skilled staff and business/ labour market regulation are key issues. Access to finance remains tight for some countries and segments (including, in particular, smaller firms; young firms; and firms that invest heavily in intangibles).