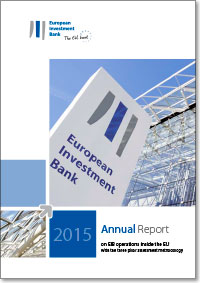 Click here for the newest edition of this publication.
Description
The EIB finances investment projects across the EU to support EU policy objectives. In 2015, the Bank signed contracts for 373 projects inside the EU worth EUR 69.6bn.
These projects have been appraised according to the Bank's methodology for projects inside the EU: the 3 Pillar Assessment Framework.
The present report shows the Bank's activity in 2015 inside the EU and highlights of the expected impact on each of the major sectors of the EU economy.