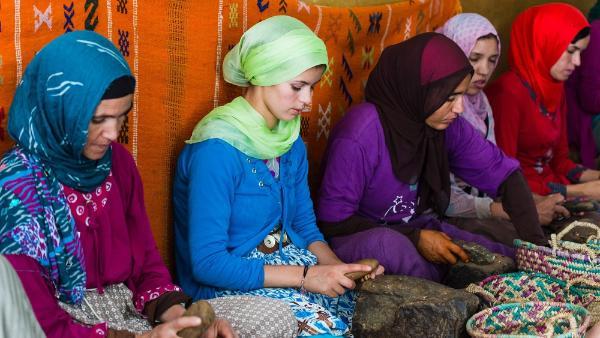 This €3 million loan is designed to support micro-enterprises and independent workers that have very limited access to traditional financing
Some 11 560 micro-entrepreneurs will be able to benefit from this financing project, including around 45% women and 48% living in rural areas
On 27 August 2020, the European Investment Bank (EIB) – the bank of the European Union (EU) – and al Amana Microfinance, the leading microfinance player in Morocco, announced the signature of a €3 million finance contract supporting access to financing and the development of Moroccan micro-enterprises. Some 11 560 entrepreneurs with very limited access to financial resources will be able to benefit from this EU financing project. Particular attention will be paid to women (target of 45%) and to the development of income-generating activities in rural areas (48% of the dedicated envelope) thanks to al Amana's distribution network.
The EIB places special emphasis on private sector development, promoting investment, and economic and social inclusion both for large corporates and micro-enterprises. The Bank has mobilised substantial resources to provide financial support to micro-enterprises and independent workers. In this way, the Bank fulfils its objective of supporting private sector development and encouraging innovative initiatives helping to create value, jobs and wealth both in the cities and on the ground in the regions.
"We support large infrastructure projects but we also attach key importance to a variety of economic and social development solutions", said EIB Vice-President Emma Navarro. She added: "This new agreement will specifically promote female entrepreneurship and project development in rural areas. It demonstrates our commitment to social inclusion and value creation by entrepreneurs – both men and women – who don't always have access to traditional financing. It is also through such entrepreneurs that we can foster economic and social development!"
The European Union's Ambassador to Morocco Claudia Wiedey said: "The European Union is pleased to support this EIB loan to al Amana, which comes under the EU Initiative for Financial Inclusion deployed in seven countries in the Southern Neighbourhood, including Morocco. With this loan signature we aim to broaden micro, small and medium-sized enterprises' access to a wider range of financing options in order to support the development of local entrepreneurship, especially for women. Our contribution will also help provide technical advisory services to the microfinance institution al Amana and its clients. This loan also bolsters the EU's existing support for the National Financial Inclusion Strategy through the EU-Morocco Competitiveness Programme (PACC) designed to promote inclusive growth and job creation in the private sector in Morocco."
"In accordance with its remit and strategic principles, al Amana has always sought to promote the inclusion of people excluded from traditional financing systems. This partnership with the EIB reinforces our institution's position and underpins our efforts to finance and support micro-enterprises as they endeavour to develop their business, create jobs and stimulate growth", said Youssef Bencheqroun, CEO of al Amana Microfinance.
This agreement between the EIB and al Amana will serve to finance income-generating activities of micro-enterprises, including independent workers, sole proprietors and micro-entrepreneurs – both men and women – in urban and rural areas (loans of less than €14 000 in line with the maximum amount authorised under Moroccan regulations, i.e. MAD 150 000 for microfinance institutions).
This loan comes under the Risk Capital Facility for the Southern Neighbourhood established by the European Union and the EIB to support private sector development, inclusive growth and job creation in the private sector. It is fully consistent with the EU's objectives and the United Nations' sustainable development goals (end poverty in all its forms, promote inclusive and sustainable growth, employment and decent work for all).  
Background information
The EIB has been a long-standing partner of Morocco for 40 years. In 2019, the Bank invested over €300 million to implement projects in key sectors of the Moroccan economy such as support for businesses, agriculture, water and sanitation, transport and renewable energy.
Al Amana Microfinance
Al Amana Microfinance is the market leader in its business sector in the MENA region. More than 2 500 employees work across its network of 650 branches, including 86 mobile branches serving remote rural areas.
At end-December 2019, al Amana Microfinance had a portfolio of 327 000 active loans, of which 43% to women and 48% in rural areas. Outstanding loans totalled around MAD 2.5 billion (circa EUR 234 million).
Al Amana is compliant with the ISO 9001:2015 standard, has SMART Campaign certification and provides income-generating businesses and micro-enterprises with inclusive financial services such as financing, money transfer and micro-insurance as well as non-financial services such as training and marketing assistance.