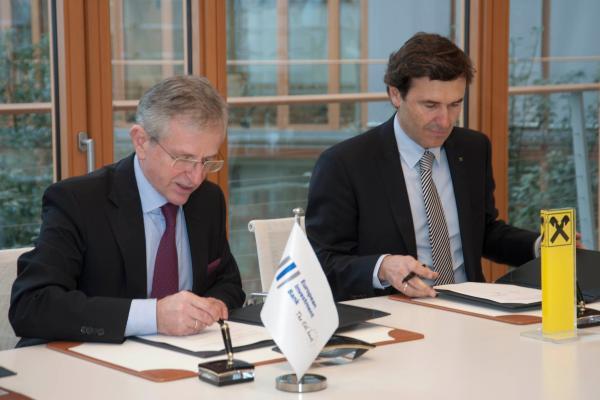 Small and medium-sized businesses in Vienna and Lower Austria will be the beneficiaries of finance provided on favourable terms by the European Investment Bank (EIB). The EU bank is making available EUR 100 million, which Raiffeisenlandesbank Niederösterreich-Wien AG (RLB NÖ-Wien), as the intermediary institution, will pass on to end borrowers. The two banks signed a first EUR 50 million instalment in Luxembourg today.
This financing offer will especially target small and medium-sized enterprises (SMEs) and midcaps (firms with up to 3000 employees) planning investment projects. The funds can also be used to finance smaller public sector energy, environmental and infrastructure projects. Projects in the health and education sectors and the knowledge economy and R&D fields will also be eligible.
The EIB's commitment will enable Raiffeisen-Bankengruppe NÖ-Wien to provide its customers with long-term loans on favourable terms. As Raiffeisenlandesbank NÖ-Wien is obliged to match the EIB funds with at least the same amount, loans with attractive interest rates totalling up to EUR 200 million will ultimately be made available. SME projects with a total investment cost of up to EUR 12.5 million can be financed in full by the EIB funds. The limit for midcap projects is an investment cost of up to EUR 25 million. The EIB's maximum contribution to financing larger projects is 50 per cent of the total investment cost.
EIB Vice-President Wilhelm Molterer stressed Raiffeisen-Bankengruppe's important role in onlending the funds: "Our partner Raiffeisenlandesbank Niederösterreich-Wien is making it possible to provide an essential contribution to supplying small and medium-sized firms in the region with funding. This operation will serve to make available business loans on favourable terms with maturities of up to 13 years and attractive municipal finance with maturities of up to 20 years. The aim is to help create sustainable growth and jobs in Austria."
RLB's managing director, Reinhard Karl, added: "Raiffeisen-Bankengruppe NÖ-Wien has been a partner of the EIB since 2003. We see it as our job to provide professional assistance for investment projects of regional importance with the latest banking products. With the help of the EIB's product portfolio, we support start-ups, innovation by growth companies and municipal projects – but also renewable energy schemes and the large-scale projects of global corporates. Our proximity to the markets as local banks and our long-standing partnership with European financing institutions like the EIB makes an attractive combination for our customers."
The EIB devotes around a third of its total annual lending to supporting the financing of SMEs and midcaps. And under the Investment Plan for Europe recently presented by EU Commission President Jean-Claude Juncker, this commitment is set to grow even further.