NaviLens uses patterns of squares and smart phones to create blind digital sign language
By Chris Welsch
When Marc Powell heard about a technology that uses smart phones to guide people through a train station, he thought it was too good to be true.
Marc, who is blind, says it takes him 10 or 15 visits to a train station in the United Kingdom, where he lives, before he has the paths memorised. A trip to Murcia in Spain made him a believer in a new system of navigation.
"There I was in a station in a foreign country, and I was finding my way easily and doing it on the first time," he says.
Marc was trying out NaviLens, an app that uses a smartphone camera to read a new form of QR code. A 20 cm2 NaviLens coded sign can easily be deciphered from as far away as 12 metres and from a variety of angles. As the user walks through the station with the phone's camera held outward, the app reads the NaviLens QR codes added to regular signs. In real time, the app gives vocal instructions, for example, indicating how far to walk and where to turn to find a train – and then to say if the train is on time.
Businesses that help society
NaviLens, based in Murcia, Spain, won the top prize this year in the General Category of the Social Innovation Tournament held by the European Investment Bank Institute. The competition recognises entrepreneurs who are creating businesses that address social problems. The prize comes with €50 000 and a business mentoring programme in partnership with Ernst & Young's Transaction Advisory Services staff in Belgium.
"It was an explosion of happiness for our team," says the co-founder of NaviLens, Javier Pita, referring to the award. "Putting in all the work and patience since we started in 2012, we're closer to our dream. It's a great recognition for us, and a chance to raise awareness."
Barcelona's mass transit system, the TMB, was NaviLens's first big customer, and now there are NaviLens signs throughout its 159 subway stations and 2 400 bus stops. The city of Murcia is using the signs across its public transport system. The New York borough of Brooklyn installed it in one subway station as a pilot programme, and Los Angeles has installed NaviLens signs throughout Union Station.
Robost and effective digital sign language
Marc, who lives near Cambridge, is the strategic accessibility leader for the Royal National Institute of Blind People. He visited NaviLens in Murcia, where he used the technology to get around the city and even visited Murcia's archaeology museum, which has NaviLens signs installed to help visitors who have poor vision. "It blew my mind," he says, adding that the institute evaluated more than 50 "way-finder" technologies and found NaviLens to be the best. "We're backing this technology. Implementing it is so easy, and it's robust and effective."
Javier has been working on using technology to help blind and visually impaired people for much of his career. Though his background is in business administration and information technology, he grew up with a brother whose vision was impaired.
Javier wanted to use existing, widely available technology to create a solution that would have broad impact. In 2012, he began working with researchers at the University of Alicante who were also trying to find solutions to help people with poor vision get around more easily.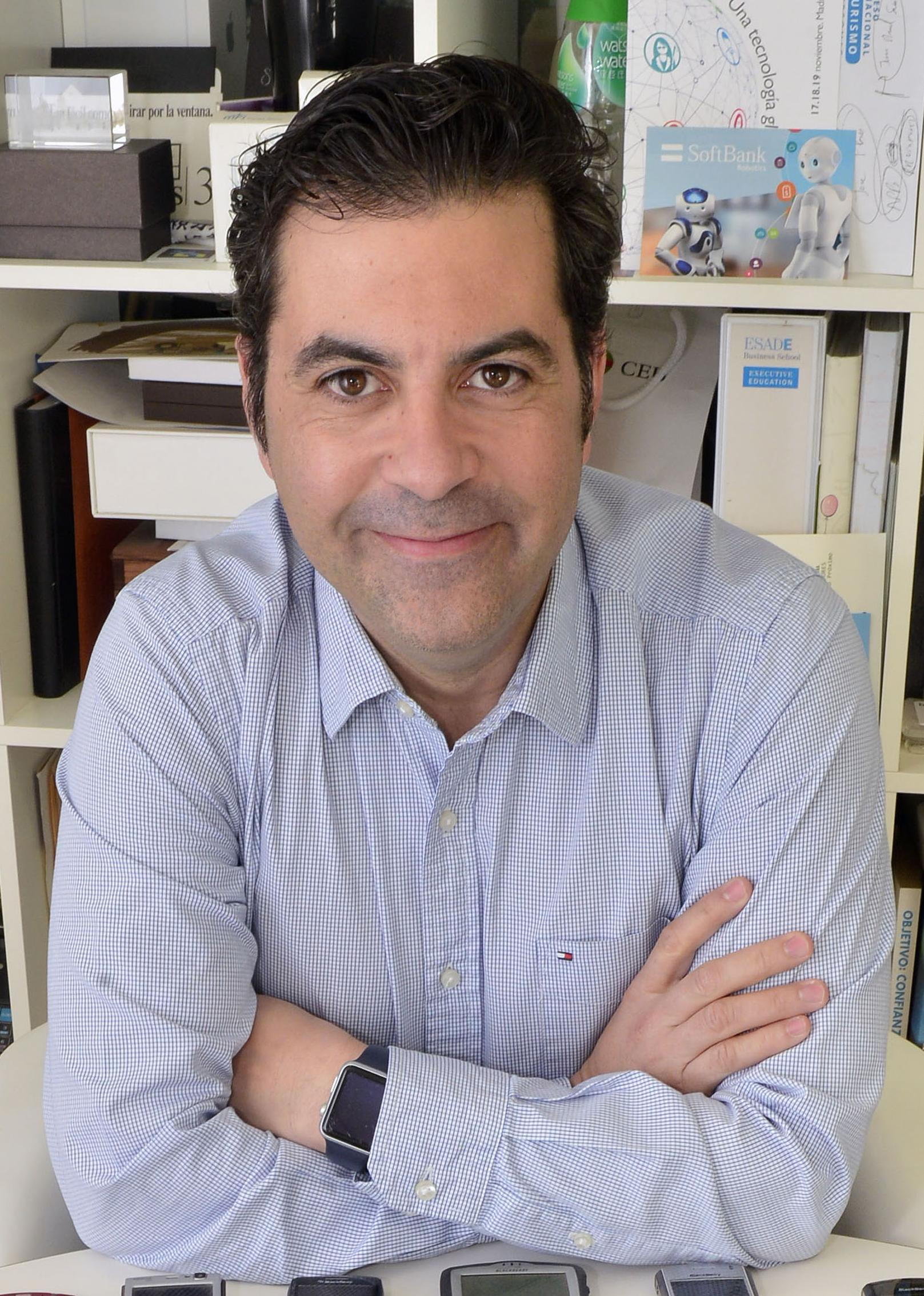 They liked the idea of using QR codes, which have been in existence since the early 1990s, but a standard QR code must be read up close, and it's not effective at an angle. So they decided the answer was to develop a new QR code that could be read easily from a distance and from a variety of angles.
The system took five years to develop and was finished in 2017. It uses patterns of coloured squares to link to online information. Using the phone's camera, the app can recognise the code without even focusing on it, and it downloads the information in .03 seconds, then giving vocal directions to the user. The larger the sign, the farther away it can be read by the smartphone app.
The free app works on all iPhone or Android devices, even older ones. It's easy to use and has the potential to benefit everyone. The app works in 33 languages, so, if for example a Spanish traveller uses the technology in Japan, it will automatically translate signage and directions from Japanese to written Spanish, making it a useful travel tool even for people with no vision problems.
It has potential beyond travel and mobility. The cereal maker Kellogg's adopted NaviLens in a pilot project in 60 stores in the United Kingdom, putting the QR code on Coco Pops so that people with poor vision can find the product and then have all the nutritional and other information that people with good vision take for granted.
Broader recognition is coming. The startup, with 15 employees, has won some other prizes for social innovation in Spain, and was the subject of an article in the MIT Technology Review.
Javier wants to persuade other cities in Europe and elsewhere to adapt the technology, to help the world's 39 million blind people and 246 million visually impaired people gain a greater degree of independence and freedom.
"This is what motivates me, in brain and body," he says. "When you see how technology can impact people in a real way, you can see it really matters."
Click here to learn more about the EIB Institute and its Social Innovation Tournament.