Foreword by the President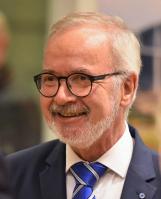 The climate crisis, the mass displacement of people and the international dimension of the COVID-19 pandemic remind us that we cannot face our challenges alone—our solutions must be global. The European Investment Bank is at the heart of the EU effort to turn Europe's policy initiatives into real development solutions on the ground. This report provides insights into our vital projects and initiatives in all regions around the world that are of priority to the European Union, data and insights on their impact and ideas for our contribution to an enhanced European architecture for development through a series of expert essays.
As the financing arm of the European Union, and as the only development bank entirely and exclusively owned by the EU's Member States, we give the European Union the strategic autonomy to act quickly and at scale.
+ Read more
You can see this in our massive and immediate commitment to the European Union's COVID-19 response, spearheaded by the European Commission through Team Europe. Now that safe and effective COVID-19 vaccines are available—our investment backed the very first to be approved—it is essential that lower-income economies are not left behind. Our €600 million support for the COVAX project in partnership with the European Commission is our largest ever for public health.
With our focus on a green recovery from COVID-19, we never lose sight of the long-term challenge of climate change whether in our investments or our development of new instruments. When we invented green bonds more than a decade ago, we knew that remarkable innovation was only the start of the job. We are still working to ensure transparency and accountability for green investments globally, even as we develop an entirely new market for Sustainability Awareness Bonds.
We have a long history as a cornerstone of Europe's development finance architecture, with operations in more than 140 countries. In Africa, we achieved record lending levels in 2020, signing €5 billion in financing, half of it with the private sector. Over 70% of our investment in sub-Saharan Africa was in least developed countries and fragile states.
The expert pieces in this report are a reminder that we constantly fine-tune our approach to adapt and respond to evolving EU policy priorities and to deliver greater impact, efficiency and effectiveness. With this in mind, we are further specialising our business delivery outside the European Union. We aim to put more of our bankers and engineers at the disposal of EU Delegations to further strengthen the European Union's value added on the ground, increase EU visibility and, ultimately, have a stronger developmental impact. This reorganisation is aimed at maximising EU impact and visibility through a dedicated EU development finance partner with technical expertise, upholding and delivering on EU and partner country priorities, including climate, health, migration, gender and digitalisation.
The European Investment Bank is an investment bridge between EU policies and projects on the ground. Working in almost every African country, in the Western Balkans countries on their path to EU accession, in the EU's Southern and Eastern Neighbourhoods and around the world, we use our unrivalled sector expertise to help build investments that reduce poverty, disease and environmental degradation.
Our plans respond to the growing demand for a stronger partnership between Europe and the world. We are committed to improving lives, together.
Werner Hoyer
- Read less
Climate and the environment
Small business and microfinance
Impact
The European Investment Bank supports projects around the globe that make a real difference to people's lives. Our support also makes a real difference to the success of the projects themselves. That's why we rigorously assess their results throughout the project cycle. It's also why we look at what we bring to each project in terms of financial benefits, catalytic effect and technical support.
To get as full a picture as possible, we use a combination of three approaches to examine our impact. For each project, we track the results and our contribution. For selected projects and instruments, we also carry out in-depth studies to obtain a more detailed understanding of the impact. And we use macroeconomic modelling to gain insight into the broader economic impact of our lending.
Download the full pdf of our Development Report for lots of data and a detailed examination of:
our approach to examining results and impact
the expected results of new projects
our contribution to new projects
our carbon footprint exercise
macroeconomic impact modelling
the results of completed projects
in-depth impact studies
aggregate lending volumes
Afterword by the Vice-Presidents for development
Everything is intertwined. With the pandemic, we face a short-term crisis, but we cannot for a moment set aside the long-term threat from climate change. And the solution to these global issues is beyond the capacity of even the most powerful country or region—we must work globally. We must, if you like, intertwine ourselves more and more. Our diplomacy, our values, our innovations and our investments must aim to resolve the problems of everyone in the world, or they will fix nothing at all.
Development work of the kind you have read about in this report contributes to the answer.
The European Investment Bank takes EU policy and imprints it on the real economy, wherever we work. Outside the European Union, we signed €10 billion in investment in 2020, half of it in Africa. We accelerated disbursement and boosted our aid to existing projects. From microfinance to big public loans, we focused on a swift response to COVID-19—without forgetting that we believe in a green recovery that reorientates economies and sets up developing countries for a sustainable, resilient future.
+ Read more
We made a strong commitment to Team Europe with the European Commission on COVAX, and we backed a range of other health investments. Partnerships such as Team Europe have become extremely important in providing quick and decisive action across a range of organisations and even continents. The result is greater effectiveness and impact on the ground—and lives improved and saved. Because we have all been affected by the pandemic, our projects recognise that we cannot produce vaccines only for industrialised countries. Yes, our health is also intertwined. In Africa, other diseases are often a greater threat than COVID-19, in fact. With the kENUP Foundation, we launched a project to scale up local production of drug components in Africa.
Beyond the pandemic, we see the continuing climate crisis and its impact on developing countries, such as the small island nations of the Pacific, which are so threatened by rising sea levels. Africa is the region that contributes the least to greenhouse gas emissions and yet is heavily impacted by climate change. Its growing population and economic progress calls for a rapid increase of electricity supply, with sustainable energy sources and energy efficiency measures the basis for long-term prosperity. That is why cooperation between Africa and Europe is so important. Europe is a global leader in the renewables sector, which positions European stakeholders well to cooperate with Africa in its endeavour to move from fossil fuels towards Paris Agreement goals. Our well-targeted investments can assist the green transition and contribute to social development. They strengthen the adaptive capacity of the people and regions most at risk from climate change.
We aim to do more on biodiversity and adaptation in developing countries, and to decarbonise the grid with projects that often link renewable energy to expanding digital industries, like our work with Orange in Guinea, where diesel generators for mobile phone towers are replaced by solar panels. We will continue to mobilise investment for women entrepreneurs. Our SheInvest initiative has been a great success in supporting microfinance for women and women's participation in the agricultural value chain. We bring a gender lens to the kinds of projects that, in the past, failed to take women into account, such as our investments in Indian urban transport. We ensure that there are women drivers and women-only cars that allow women to travel there with a feeling of security.
We have a range of instruments from loan guarantees and direct equity to senior loans, as well as technical assistance in the preparation of projects. We also invest in funds that help small companies in Africa, and others that build innovative renewable energy projects across the developing world. In every sector, our toolbox is diverse. Because everyone is intertwined, but everyone is not the same. Our approach is nuanced enough to cope with this reality.
The climate objectives we have set for ourselves in the last year include developing countries as an integral part of what we aim to achieve. Security from climate change is like all our other objectives, from economic prosperity to better health and more inclusive societies—so long as any part of the world lacks it, the quality of all our lives is lessened. At the European Investment Bank, we are ambitious for Europe and for the entire world.
Ambroise Fayolle and Thomas Östros
Vice-Presidents for development
- Read less