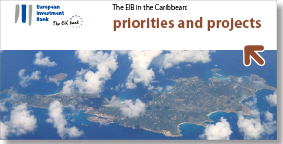 Description
Our priorities in the 15 Caribbean nations and 13 Overseas Countries and Territories are private sector development, including the financial sector and micro, small and medium-sized enterprises (MSMEs);
basic infrastructure, such as power, water, transport and telecommunications; and climate action, comprising both climate change mitigation and adaptation. 
As things stand, the Caribbean region is made up of fairly isolated economies which are very dependent on tourism, and therefore the global economy has a huge impact on their well-being.
Growth rates are quite heterogeneous, reflecting the fact that some countries lack economic diversification. Regional integration remains a key challenge and is therefore to be taken into account when delivering EIB support. 
Caribbean countries are very vulnerable to the adverse effects of climate change. In late 2015, the EIB pledged to increase the share of climate action investment outside the EU from 25% to 35% of total lending volumes by the year 2020. As one of the largest climate action financiers in the world, we are well placed to do this, and to collaborate on climate projects across all sectors. 
The EIB has invested around EUR 1.6bn in the Caribbean since 1978, when the first operation was signed, and EUR 515m since the beginning of the Cotonou Agreement in 2004. Historically, this amounts to 165 projects in Caribbean countries and 46 in the Caribbean OCTs. This investment comes from the ACP Investment Facility, EIB own resources and the Impact Financing Envelope for higher risk, higher impact projects.