The Cleaner Transport Facility
Transport creates vast amounts of greenhouse gas emissions which contribute to climate change and air pollution. It is crucial to use strategies to curb transport emissions and help finance cleaner transport.
The Cleaner Transport Facility (CTF) is an initiative to support the deployment of cleaner transport vehicles and their associated infrastructure needs, such as for charging and refueling.
What types of projects are eligible?
The facility targets transport vehicles operating on alternative fuels that have lower greenhouse gas emissions – or enhanced environmental performance – compared to conventionally-fueled transport vehicles. These alternative fuels include: electricity, hydrogen, biofuels and natural gas.
How can the EIB support my cleaner transport project?
We want to hear from stakeholders in the cleaner transport and alternative fuels sector to work together to develop financial products and structures tailored to the industry's profiles and investment needs.
Contact us directly by emailing cleaner@eib.org.
How the Cleaner Transport Facility works
By making use of existing EIB products and new financial instruments, the CTF assists in investments in cleaner transport projects, by both public and private stakeholders.  The CTF deploys the EIB's technical and financial capacity to adapt to specific market needs in order to explore viable business models and boost opportunities to finance cleaner transport.
The support for alternative fuels and cleaner technology in transport is aligned with European Union policies on climate action and sustainable transport, and specifically the strategy of the European Commission on low-emission mobility. Additional benefits of cleaner transport projects include reduced health costs due to cleaner air and lower noise.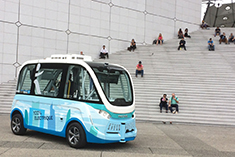 Autonomous vehicles, delivery drones, shared mobility
---
Spain's first bus rapid transit will transform the way people move - and breathe - in the capital of Gran Canaria, Las Palmas.
---
---
---
---
---