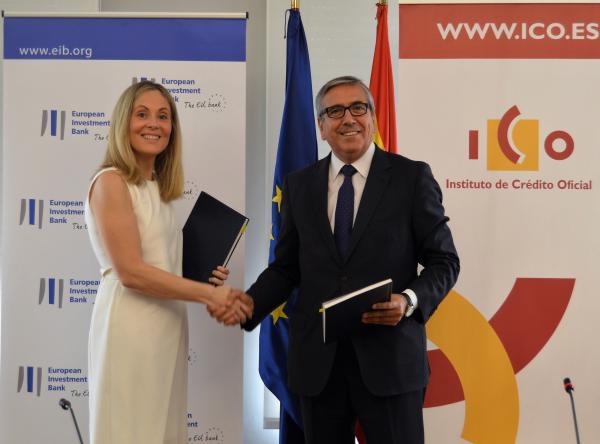 Agreement will provide finance to boost firms' liquidity through advance payment of invoices and fund their investment abroad  
The European Investment Bank (EIB) has granted the Instituto de Crédito Oficial (ICO) a EUR 300 million loan designed to provide liquidity enabling Spanish SMEs and mid-caps (firms with up to 3,000 employees) to build up their exporting business. Under the agreement, ICO will match the EIB funding with its own contribution of EUR 300 million, bringing the total amount mobilised for this credit line by the two banking institutions to EUR 600 million. EIB Vice-President Emma Navarro and ICO's Chairman, José Carlos García Quevedo, signed the agreement in Madrid.
Through this funding, the EIB will help to strengthen the ICO Exporters and ICO International lines. The ICO Exporters facility is designed to provide advance payment of invoices stemming from the short-term exporting activity of SMEs and self-employed people and finance the upfront manufacturing and production costs of the goods that they export. The ICO International facility serves to finance investment abroad, as well as supplier and purchaser credit and the supplementary financing that firms need to carry out their exporting activity.
The aim of this agreement is to promote the growth and competitiveness of small and medium-sized export-oriented Spanish firms in order to foster innovation – closely linked to international business – and create jobs.
Upon signing the agreement, EIB Vice-President Emma Navarro said that: "access to external markets is key to enabling small Spanish businesses to grow and create jobs. This agreement will provide both the short and long-term financing required for them to internationalise their activities and represents a further step forward in the close partnership between the EIB and ICO in jointly boosting the growth of our companies."
ICO's Chairman, Jose Carlos García de Quevedo, went on to say that "this new operation between our two institutions will strengthen ICO's role as the go-to organisation for financing Spanish businesses. Today's agreement with the EIB will enable us to provide liquidity to Spanish firms so that they can grow, export and be more competitive, thus helping to create jobs and generate economic growth in Spain."
This is the second agreement between the EIB and ICO designed to strengthen the exporting activity of Spanish and SMEs and mid-caps. Under the first, signed in 2016, more than 13,600 operations have been carried out, the bulk of them with firms with fewer than 40 employees.