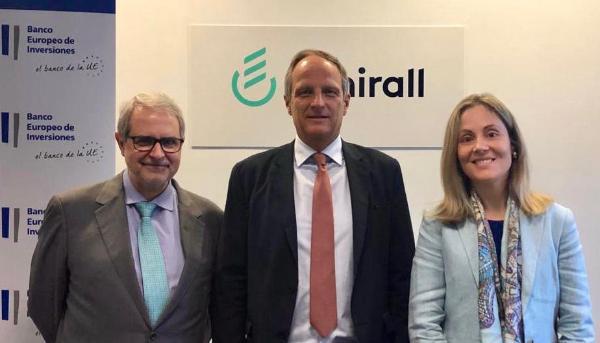 EU bank provides Spanish pharmaceutical company with EUR 120m to develop new medication for dermatological problems currently lacking effective treatment  
The implementation of the project will specifically seek new pharmaceutical responses to pathologies such as psoriasis, atopic dermatitis and actinic keratosis, a type of precancerous cutaneous lesion.
The European Investment Bank (EIB) has today taken a further step forward in fostering innovation in the Spanish and European pharmaceutical sector. By granting a EUR 120m loan to Almirall under the Investment Plan for Europe, the EU bank is financing research into new therapeutic indications for the benefit of patients with severe skin diseases for which there is currently no effective pharmaceutical treatment.  EIB Vice-President Emma Navarro, and Peter Guenter, CEO, Almirall, met today in Barcelona to sign the agreement.
With the EIB's support, Almirall will be able to execute its research, development, and innovation (RDI)  focused on developing transformative therapies to improve the quality of life of patients with inflammatory dermatological diseases, selected cutaneous cancers and rare congenital disorders with no effective treatment available. The research will specifically focus on new therapies for atopic dermatitis, psoriasis, actinic keratosis, and effective treatment for a congenital disease such as epidermolysis bullosa.
Almirall will benefit from the EIB's favourable interest rate and repayment terms, enabling it to implement its innovation strategy on schedule by 2022.
EIB Vice-President Emma Navarro said: "We are delighted to sign an agreement demonstrating the EIB's firm commitment to fostering innovation and supporting the development of new medication that will improve people's quality of life. At the same time, the EIB is helping a Spanish leading company in the sector to maintain access to cutting-edge research technologies, thereby securing the future of the highly competitive pharmaceutical industry in Europe".
Vytenis Andriukaitis, European Commissioner for Health and Food Safety said: "The EU's dedication to improving availability and access to specialised care has been shown today. There can be no innovative solutions without investment, and so it is vital we continue to guarantee funding at EU-level to ensure companies can develop new medications for diseases which currently have no treatment or cure. Patients must be at the core of every R&D strategy, and so I very much welcome EIB's support in this field.'' 
Peter Guenter, CEO of Almirall, added: "Our commitment to improving patients' quality of life undoubtedly means forging ahead with our R&D, the mark of Almirall's identity, developing new effective and efficient medicines. The funding provided by the EIB will make a significant contribution to the realisation of our ambitious research and development plans".
This agreement between the EIB and Almirall was signed in the framework of the Investment Plan for Europe – the Juncker Plan – which enables the EIB to step up its support for investment projects that help to increase economic growth and employment.