On the tiny island of Mauritius, an innovative company squeezes every last cent from its sugar cane—and protects the environment
This is the story of a sugar cane company on an island two thousand kilometres off the southern African coast. The company managers faced big changes. But they responded with one innovation after another. They found a partner in the European Investment Bank, and over six years they built a set of businesses that could survive the kind of shock that threatened them. And they did it all while protecting the environment of their tiny homeland in the Indian Ocean.
"They didn't just produce their own basic materials. They grouped different firms together and built an agro industry that has real social impact," says Diederick Zambon, head of the EIB's Africa-Public Sector division. "It's a great story."
Sugar shock
A decade ago, the European Union agreed a reform of the sugar market during international trade negotiations. For 33 years, sugar producers in several countries in Africa, the Caribbean and the Pacific had sent a set amount of sugar to Europe and received a guaranteed price.
Without the protections, sugar prices fell 36 percent between 2006 and 2009 in those markets. Things had to change.
Mon Tresor & Mon Desert, a sugar producing company with a history dating back 150 years, rebranded itself as Omnicane in 2009. The new company's approach was anything but backward-looking.
Many sugar mills closed. But Omnicane upgraded its sugar factory in the town of La Baraque in the south of the island. All the sugarcane harvested in the south of Mauritius is now processed there. More importantly, Omnicane embarked on a journey into innovation that would lead it to build a series of facilities within its complex at La Baraque, each designed to use a by-product of the previous one to create a new product. Each time value was added.
In the process the company moved into other sectors like refined sugar, electricity production, and ethanol distilling that would have seemed impossible in the days of the guaranteed prices.
Refine your own
Mauritius sugar growers traditionally cut their cane, put it through a rudimentary process to produce raw sugar, and shipped it to Europe, where it was fully refined and made ready for consumers. Omnicane's first step was to build a refinery for its raw sugar, so that it could reap higher revenues from the export and sale of a finished product, white sugar.
With a EUR 15 million loan from the European Investment Bank, Omnicane built a sugar refinery at La Baraque. It was part of a EUR 30 million loan made to Mauritius companies by the EIB.
The refinery provided jobs for 100 people, some of whom worked previously in Omnicane's raw sugar business and others who were newly employed. "Those people either would have no job or would've lost their jobs," says Rajiv Ramlugon, Omnicane's chief sustainability officer. "Unrefined sugar was no longer a viable business."
At La Baraque, Omnicane produces up to 200,000 tonnes of refined sugar each year. Building the refinery was a big success. But it also presented a new problem.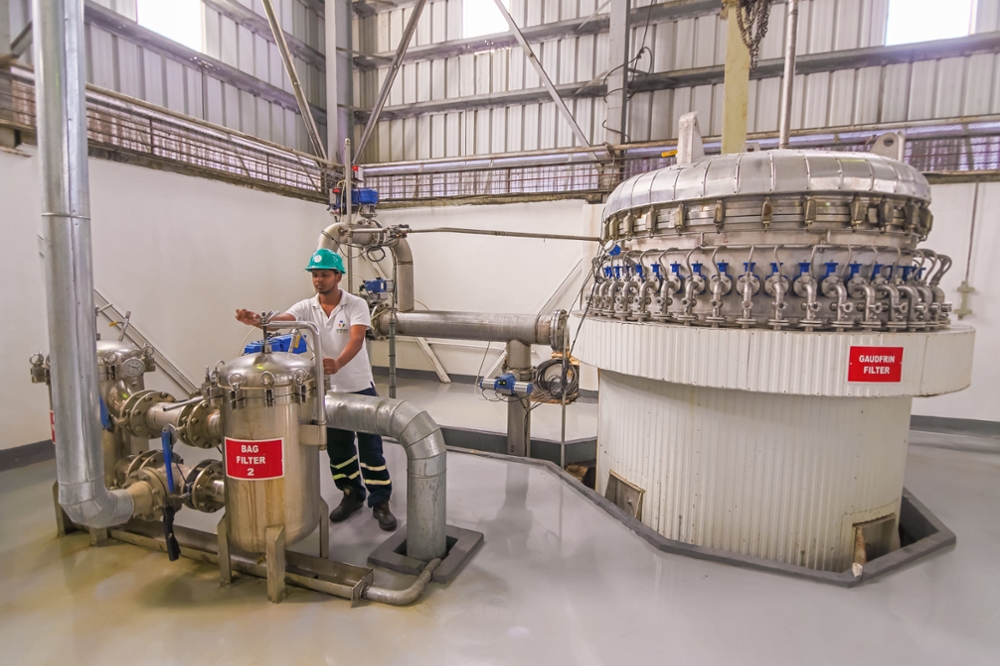 Mud, slurry, and gas
Before you eat sugar, it goes through a series of industrial processes. It's pressed and the sugar is extracted into a liquor and clarified, filtering out suspended solids. It's passed through gravel for further filtration and sent through a set of resins to take out the green colour of the cane.
The sugar slurry is crystallised in centrifuges, which remove the syrup. Then the sugar is dried, sieved and loaded.
Go ahead, now you can eat it.
But what to do with the by-products—mostly molasses—that have been filtered out? At first Omnicane had to sell it cheaply and ship it around the world, where it was converted into ethanol or used as a component for animal feed.
The next step for Omnicane was, once more, to do all that locally. The company secured another loan from the EIB in 2013. This time it was EUR 8 million to build a distillery that took the molasses and distilled bioethanol from it, a venture which employs 50 people.
With 90,000 tonnes of molasses available from Omnicane's sugar mill and from other sugar factories on the island, the company can produce up to 24 million litres of bioethanol. It can be used as a fuel additive to reduce the amount of gasoline needed to drive a car's engine, though it's also processed to alcohol for the food industry and for medical use.
That isn't the last step, of course. The bioethanol process brings by-products of its own and Omnicane has turned them into businesses too.
During fermentation, the molasses gives off carbon dioxide. Omnicane captures some 25 tons of carbon dioxide daily, puts it through a scrubbing process, and sells it to a neighbouring factory where it is used to produce beverage-grade carbon dioxide—the gas that makes your cola fizz. This technology reduces greenhouse gas emissions, because fossil fuels are typically burned to capture carbon dioxide for beverages.
Once the molasses is distilled, there are also some leftovers called vinasse, which is rich in minerals like potassium. Omnicane's distillery makes use of that too:
the vinasse is converted into concentrated molasses stillage by an evaporation process and sold to sugar plantations as an organic fertilizer
the vinasse is soon to be put through a biomethanation process, too. Omnicane's working on a project to produce methane gas from the vinasse, which will generate renewable electricity for the company to sell to the country's electrical grid.
thermal energy in the form of steam and hot water is also generated. It will be used to run some of the industrial processes within the complex at La Baraque
"They're using all the by-products to extract maximum value out of the business," says Vincent Girard, a loan officer in the EIB's Global Partners department. "They're not missing a single opportunity to find financial advantage in what they do."
The masterplan
The experience of the sugar price collapse taught Omnicane managers that it might be wise to diversify. They took a EUR 8 million loan from the EIB to build a four-star, 139-room hotel on company land next to the SSR International Airport—land that had previously been used for the house of the estate manager for the sugar cane fields. The Holiday Inn Mauritius Airport opened in December 2013 and employs some 140 people.
With another EUR 700,000 from the EIB, Omnicane conceived a masterplan to develop residential and commercial properties around the hotel. When development is completed, the project will provide some 4,000 direct jobs. An equal number will be indirectly employed.
"They recognised the importance of diversifying their business," says Philippe Brown, an EIB loan officer. "They've expanded into areas that are bigger earners than sugar now."
Not yet burned out
But Omnicane still had a circle to close.
Industrial designers are increasingly examining the way products are made to find techniques to avoid waste. Known as Circular Economy, this thinking begins long before the stage at which a product is discarded, reused, or recycled. Circular Economy is intended to be part of the planning and design phase of a product to ensure a long life, and high potential for reuse, repair and recycling.
"You transform an output that's currently considered waste into a valuable input for another process," says Marco Francini, an EIB engineer who worked on several Omnicane loans. "The environmental benefits are tremendous."
The EIB has funded about EUR 15 billion in Circular Economy projects in the last 10 years.
Including the final stage of Omnicane's industrial process.
In November 2015, the company signed a EUR 8 million deal, once again with the EIB. This time Omnicane will build an innovative "carbon burn-out" facility, which will be completed by August 2016. Employing around 15 people, the carbon burn-out will thermally reprocess the coal ash left over from three power plants in the company complex and elsewhere on the island, creating:
an additive for cement, reducing the import of Portland cement and saving tonnes of carbon dioxide that would have been emitted from the manufacture and import of that product
steam to power Omnicane's other facilities
"It's an industrial ecosystem," says Rajiv Ramlugon. "It's a cradle to cradle concept."