The Renewcell textile recycling plant will shred old clothes and transform them into new threads. The Swedish company aims to use its patented technology to make the fashion industry more sustainable.
It all started with a simple yellow dress created from old, discarded blue jeans.
It was the first garment made entirely from recycled clothing seven years ago by what was then a new company, Renewcell. "The dress shook up everything," says Tahani Kaldéus, the head of research and development at Renewcell. "This changed the equation of consumption in the fashion industry."
When the Stockholm textile recycling company introduced its yellow dress to the fashion industry on a catwalk in June 2014, it received widespread praise, because the dress looks no different from one purchased at a leading retailer. The difference, however, is the technology.
Renewcell is one of the first industrial-scale companies to turn old clothes into new textiles using an eco-friendly chemical recycling process. The company wants to show the world that recycled clothing works. It uses patented technology to shred and break down clothes into a pulp that is then processed into a fibre and turned into thread.
"Clothes made from recycled materials have been around for a while," says Harald Cavalli-Björkman, chief marketing officer at Renewcell. "You can find many recycled garments made of polyester from recycled bottles. We are pioneers in textile-to-textile recycling. We use old garments to produce new ones with the same quality."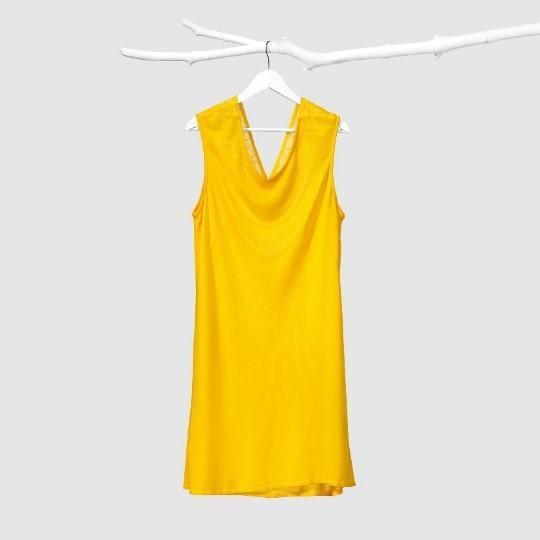 Keeping clothes out of the landfill                   
The European Investment Bank signed a loan of up to SEK 311 million, or about €30 million, with Renewcell in June. The loan, which received a guarantee from the European Commission, will help build the first full-scale commercial clothing recycling plant. The plant will be located in Sundsvall, Sweden, with a capacity to produce 60 000 tonnes of pulp per year.
Renewcell has already worked with well-known fashion companies to launch thousands of garments made from recycled clothes.
"These pieces sold out quickly and looked and felt exactly like normal clothes," says Kaldéus. "We make it easier for customers to choose the more circular option, by offering nice clothes at a reasonable price."
Renewcell's process also helps the climate and the environment. Like other clothmakers, it uses cellulose to make textile fibres. By harvesting cellulose from textile waste, instead of extracting it from wood, the company helps reduce deforestation, preserves habitats and prevents biodiversity loss.
 "Circular economy is a key element of the European Green Deal," says Darragh Mac Neill, senior industry specialist at the European Investment Bank. "In particular, there is a rising concern about textile waste. More than a half of discarded garments in Europe end up in a landfill or are incinerated, while only 1% are recycled. So we are faced with a compelling need to change how we deal with valuable natural resources" 
The production of natural textiles such as linen and cotton also consumes a lot of water.
"The world population is growing and everyone needs clothes," says Céline Rottier, a loan officer at the European Investment Bank who worked on the Renewcell deal. "But the fashion industry needs to become more sustainable and resilient for the future. Re-using and recycling are the only way to make the transition to a circular production model."
A COVID-19 step change
The COVID-19 crisis is an opportunity to speed up this transition.
Lockdowns and other health restrictions have caused major disruptions in the clothing supply chain and accelerated the shift towards online distribution. Customers are increasingly aware of the environmental impact of their shopping choices and expect companies to meet higher ethical and environmental standards. Many fashion brands are emerging from the crisis with a greater emphasis on sustainability.
Innovation is also speeding up the sustainability transition. "That's where we step in," says Elsa Lopez Formoso, another loan officer at the European Investment Bank. "We bridge the gap caused by the innovation death valley."
The "Valley of Death" is a term used by entrepreneurs to describe the tricky phase between research and development and the successful implementation of an innovation. Companies often receive grants and various types of limited financing during the early stages of product development. However, when companies are ready to move to full-scale production, they often find it difficult to raise large amounts of money from private investors, because of the risk inherent in new technologies.
"That's where the European Investment Bank's finance and stamp of approval can allow the private sector to feel confident enough to invest in scaling-up circular innovation," says Cavalli-Björkman, the marketing officer at Renewcel. "This way, we can get everyone involved in a sustainable future."