In the offshore wind business, size does matter
The blades of the world's biggest wind turbine are 80 meters long, the wingspan of an Airbus A380. The circle they make when they sweep around is larger than the iconic London Eye ferris wheel. And not one but 44 of these turbines are set to be installed in the Norther windfarm, 22 kilometres off the coast of Belgium.
But not only are wind turbines getting bigger. Thanks to technological advances and financing from banks, such as the European Investment Bank, wind power is also increasingly affordable. The EIB's renewable energy division's senior engineer David González says technologies need a certain level of take-up to become competitive. "Technologies that we now consider well established such as combined cycle gas turbines were still having issues even in the 1990s," he muses. "Electricity generation technologies take long to mature. For instance, steam turbines took nearly 80 years to become widespread. So for wind turbines to mature, you will need enough trial space and enough R&D investment for the same to happen."
With the offshore wind loan agreements it signed in 2016, the EIB is certainly helping facilitate this trial space, in addition to financing the research and development.
Investment Plan for Europe keeps turbines turning
In May, the EIB agreed to provide GBP 525 million for construction of the Beatrice windfarm to be built 14 kilometres off the coast of Scotland – the largest single investment in an offshore thus far. Beatrice will include 86 turbines, generating up to 588MW, enough to satisfy the needs of 520 000 homes.
In February, March and September, EIB signed agreements towards providing GBP 160 million to construct transmission networks to two more offshore wind farms and GBP 500 million to finance reinforcements of a regional network allowing the connection of more renewable energy producers.
"Scotland is an interesting case, given that renewables are now the country's biggest electricity generator, and nearly half of gross electricity consumption comes from renewables," says the head of the EIB's renewable energy division, Alessandro Boschi.
In October, the EIB signed with Rentel wind farm for up to EUR 300 million to erect 42 wind turbines 34 kilometres off the Belgian coast, with an installed capacity of around 300MW, enough for approximately 258 000 homes.
And in December, the bank signed with Norther to provide EUR 438 million for the London Eye ferris-wheel-sized turbines, with a nominal capacity of close to 370MW. All of the wind farm loans were at least partly guaranteed under the Investment Plan for Europe.
A combination of technology and experience
The rotor diameters of the turbines in those farms grew by the month: 154 meters, 156 meters, 164 meters. While the diameter is not the only factor determining the output of the farms, it certainly has an impact. When the record-breaking MHI Vestas Offshore Wind's V164-8.0MW turbine prototype was set up at a test site in northern Denmark in October, it managed to produce in one 24-hour period and with favourable wind conditions 192 000 kW/h. That's enough to supply the energy needs of 13 500 households, the size of a small city not uncommon in the region. With just one turbine. The turbines to be used at Norther are a modified version of this prototype, and can increase their power output to 8.4 MW under certain conditions.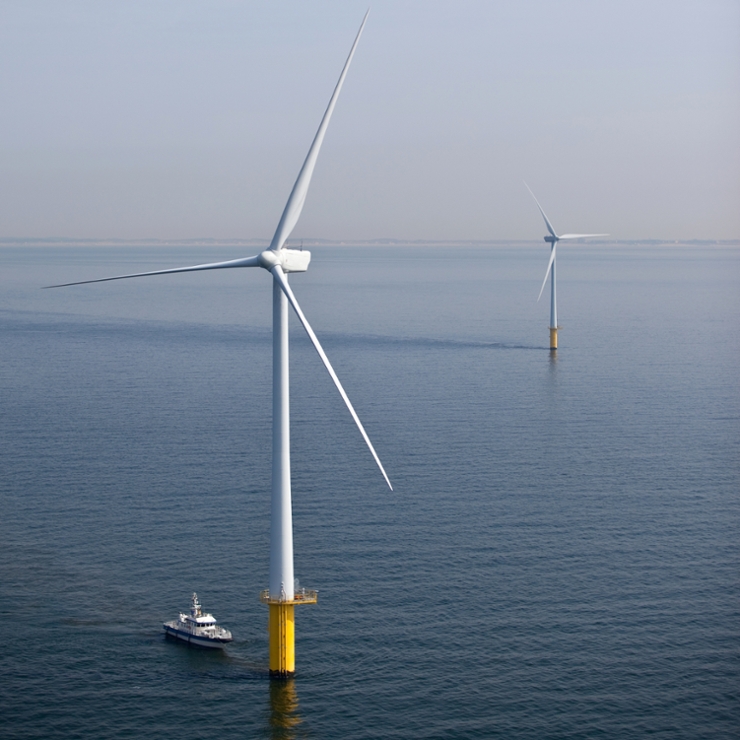 The Dutch Economic Affairs Ministry published a paper called the Energy Agenda in December 2016 that forecasts offshore wind turbines will no longer require subsidies by 2026.
But, as David González points out, it is not just technological innovation driving down the cost of wind energy. Part of it is also down to:
Contractors, suppliers and developers of wind projects becoming more experienced
Cost and amounts of raw materials used in the turbines and foundations
More competition in the sector.
Financers becoming more experienced. In Belgium, for example, the EIB has financed all of the 6 offshore windfarms either already operating or in construction.
One of the most heavily invested banks in the sector
Having been amongst the first lenders to provide project finance to offshore wind and also being one of the most heavily invested banks in the sector, the EIB has gained an unmatched technical insight and experience, explains Steven de Gruyter, head of the EIB's energy project finance team for Western Europe. "It is this long standing commitment that has allowed us to become a reliable and trusted partner of the offshore wind industry. Understanding the ongoing technical evolution of construction methods, generation equipment, operations management and lifecycle costs is critical to fulfilling our role of ensuring continuous access to finance for developing renewables technologies," he says.    
No subisides, lower costs
The final factor driving down the cost of wind energy may be even less obvious: subsidy regimes established for renewable energy are becoming less generous. "When the subsidies are high, there is no incentive for anyone to really drive down the cost of the technology. That's why the trend towards competitive mechanisms such as auctions is beneficial. We have seen recent examples of offshore wind tenders awarded at very lows costs of electricity," says González.
But there are limits on how low you can go. Reaching a stage when offshore wind truly will need no subsidies, as the Dutch government report predicted, is realistic, but may still take some time. Another limit is space: space where wind farms won't disturb sea traffic, romantic ocean views and – not to be forgotten when dealing with these environmentally wonderful renewable solutions – birds.
"Generally, projects are developed on the closer and shallower locations. Then come the ones further away, with deeper waters, more difficult conditions, and needing long grid connections" González notes.
And the cost of the foundations for the turbine could become prohibitive. "The deeper the site is, the taller the foundation. If you have to build a taller building, it gets more expensive."
Bigger the turbines, less turbines you need, and less foundations you have to build in the deep sea. Which is why size does matter in wind energy.