The new Sustainable Ocean Fund teaches fishing communities how to live off the ocean without overfishing
Imagine Italy running out of Parmesan cheese. Or France using up all its grapes, so that it would have to go without wine.
Something that major happened in El Manglito five years ago. In a pocket of northwestern Mexico that relies on fishing, this community of about 550 people ran out of its most popular clam, the pen shell, because of overfishing. These tasty shellfish had been the lifeblood of the local economy. Without them, things were rough.
"Crime and addiction became prevalent," says Scott Ferguson, a project manager for Noroeste Sustentable, a nongovernmental organisation trying to make Mexican communities more sustainable. "The inhabitants of the area were basically without hope."
The story of how El Manglito found hope is a blueprint for other fishing communities in developing countries.
A test case to stop overfishing
The European Investment Bank and Althelia, an investment firm specializing in environmental finance, identified El Manglito as a possible test case for a new fund dedicated to turning around failing fishing communities.
For the past two years, Althelia has been raising money for a Sustainable Ocean Fund. The fund hopes to prove that small-scale fisheries can be sustainable and profitable. Studies show that profit in the sector could rise by 115% to USD 51 billion a year, if fisheries were managed sustainably.
Commercial banks are reluctant to put money into the fishing industry because of many risks, such as stocks running out or revenue falling. The Bank's contribution as a cornerstone investor should make high-profile private banks feel more secure about investing in this and other ocean funds.
The EIB often uses its fund investments to attract more money from the private sector. For example, the Bank has invested more than EUR 1 billion in climate-related funds. The total capital raised by these funds is more than EUR 8 billion, and the total investment in the climate projects that they support is more than EUR 30 billion.
The EU bank is investing about EUR 17 million in the Althelia Ocean Fund. The fund hopes to raise a total of EUR 85 million to invest in El Manglito's fisheries and 15 to 20 other ocean projects in Latin America, Africa and Asia.
"Overfishing is a forgotten problem," says Jane Feehan, an EIB climate finance investment officer. "It's time that we make it a bigger part of our work around the world."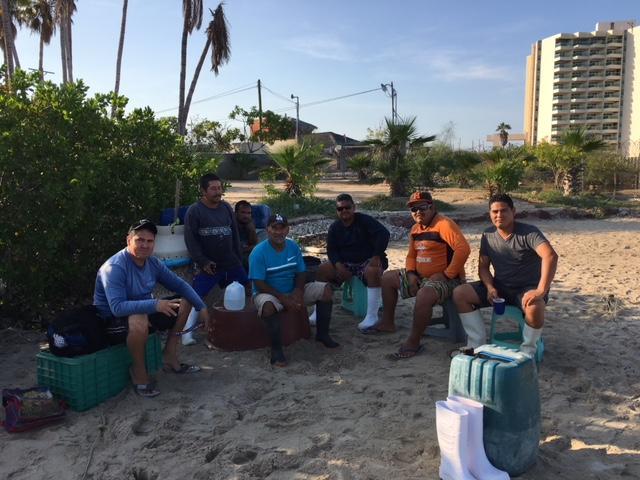 Better management and less spoilage
The fund will help fishing communities:
adopt better management
use higher quality refrigeration
improve processing
acquire better boats
cut down on waste and spoilage (because global losses from fishing mismanagement are estimated to have cost more than USD 2 trillion over the last 30 years).
"The beauty of fisheries as opposed to forests is that you already have a business that works," says Simon Dent, lead manager of the Althelia Ocean Fund. "We're trying to make it work better and scale up fisheries cooperatives to make sure they protect their resources."
Ocean fishing is extremely important to many societies:
More than one billion people depend on fish for their primary source of protein
The global fishing industry is worth about USD 260 billion a year.
More than 350 million jobs are linked to the ocean through fishing and other marine industries
90 percent of people whose livelihoods depend on fishing are in developing countries
More than 85 percent of the world's fisheries are in need of strict management plans to restore stocks
"There is a serious need to address the declining state of the world's oceans," Noroeste's Ferguson says. "It is a terrible situation."
The EIB, one of the first investors in Althelia's Sustainable Ocean Fund, hopes to become a pioneer in economically viable ways to protect the seas.
"If we don't do more to protect the ocean, this is going to lead to many new environmental problems," says Martin Berg, an EIB senior investment officer who visited El Manglito to understand its plight. "One of the main problems in many places around the world is overfishing, and we're trying to find ways to stop this and to help rebuild stocks."
Bumpy road to recovery in El Manglito
In El Manglito, when clam supplies became dangerously low, residents started fishing in illegal areas farther away in the Gulf of California, spearfishing at night or harvesting from protected zones to make a living. Other residents turned to drugs and crime to survive. Many residents turned on each other because of fishing disputes, and few of them worked together. The streets filled with garbage.
"The fishermen were treating this bay like an ATM and eventually they ran out," Ferguson says.
As its fortunes were hitting bottom around 2012, El Manglito residents started working with Noroeste to learn how to turn things around.
The result was a "miracle," Ferguson says. "The shellfish population went from nearly zero to the point where it is at more than four million today."
Carving out a better future
With help from Noroeste, community members worked together to
patrol the shores and enforce a strict moratorium on fishing. Noroeste paid fishermen minimum salaries so they could survive without collecting clams. The community formed a company called Achamar to modernize the processing, packaging, marketing and distribution of pen shell products for when the fishing could start again. 
Now that overfishing is controlled, it is estimated there will be 60 million pen shells in the El Manglito area by 2020, which is nearly a sustainable level.
The challenge is to make this recovery model work all over the world. "The Sustainable Ocean Fund is exciting because it's a global effort," Ferguson says. "Sure it's great to help 500 to 600 people in a single community, but we want to replicate this everywhere."