Entrepreneur creates an alternative for the hearing-impaired with sub frequencies that allow them to experience music for the first time 
Francesco Spaggiari is an entrepreneur, but first and foremost he is an artist. A professional DJ and music producer, he has been working with music since age 11. In 2019, he created his interdisciplinary company, Eufonia. He also hosted his first festival in Berlin, exploring the intersection of sound, art, and science that same year.
That's when, he says, "I realised sound wasn't enough to unite people, because deaf people couldn't be included."
Music is an ubiquitous element in most people's lives, from creating an atmosphere in a café and driving crowds wild at live concerts to providing emotional impact in movies and TV series.
With his project, titled Sub_Bar, Francesco is developing an alternative for the 70 million severely deaf and 430 million hearing impaired people in the world who don't normally have access to the experience of music. He also believes that limiting music to one part of the population is a loss for all. "It misses out on the point of communication, diversity, and artistic exchange," he says.
Music through sub-frequencies
Francesco says that once he had the idea for Sub_Bar, there were two conditions for him to pursue it. First, "I wanted to imagine a 'listening' situation where deaf and hearing people could be together in a place appreciating music in the same way." And second, "Since I'm an artist, I wanted to create something beautiful."
With Sub_Bar, he is changing the material of music from sound to sub-frequencies, or the lowest frequencies detected by the body, limited to a range from 30 to 150 hertz.
This is music without sound, we "hear" it not as an auditory experience, but viscerally, with haptic senses linked to tactile receptors on our skin and in our bodies. Anyone who goes to nightclubs knows the heart-pounding sensation of heavy bass music, a result of sub-frequencies. But Francesco says that what he's inviting artists to explore goes deeper and further than a repetitive beat in a club.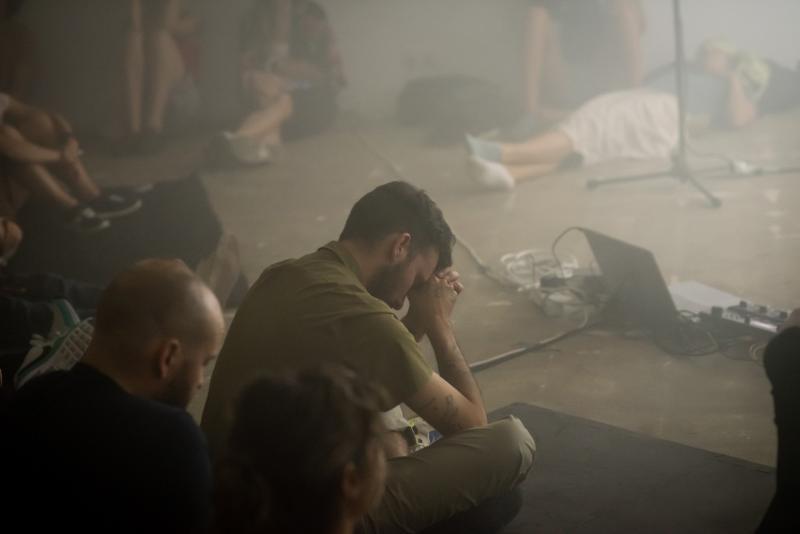 He asked artists inside and outside the Eufonia network, including some who are deaf, to compose original music using only sub-frequencies. The artists come from diverse musical backgrounds, such as classical, electronic, and sound art.
Francesco says the limitation of low frequencies is a challenge, yet it allows for a tremendous amount of creativity. "Musicians are very excited to do this. They don't know how to tackle the problem, but they always find a solution." For example, a musician composing a piece with a guitar and microphone might use a pitch pedal to transform the sound to sub-frequencies, and a subwoofer to increase the volume.
Sub_Bar was a 2022 finalist in the European Investment Bank Institute's Social Innovation Tournament,  which recognises start-ups that are making a positive impact socially, ethically, or environmentally. Since Eufonia's team doesn't come from a business background, they particularly appreciated the practical support they received.
Sub Bar events around Europe
In addition to creating a catalogue of music based on sub-frequencies, Eufonia is developing the conditions for this new kind of music to emerge. Sub_Bar projects include artist management, publishing and overseeing copyrights, educational tools, playlists for rent, and dedicated events.
In late 2021, Eufonia created its first Sub_Bar event in Berlin. Since then, events have taken place in Lisbon, Leipzig, Reggio Emilia, and Porto.
In July 2023, Sub_Bar will appear at the Awakenings electronic music festival, with deaf DJ Kikazaru. Francesco estimates that Sub-Bar projects could reach more than one million people by 2027, saying the field is wide open, "There was no market for this, because there was no idea it was possible."
Schools are also taking an interest. The University of Lisbon is planning to conduct a study of a Sub_Bar course, and Francesco has been contacted about creating courses for schools in the city, and in southern Italy.
Though it is too early to measure the effects of Sub_Bar, music in general has been shown to have psychological, neurological, and sociological benefits. In a 2021 article about haptic stimulation published in Frontiers in Neuroscience, the researcher Mark D. Fletcher writes, "New approaches for enhancing music perception in hearing-impaired listeners could substantially improve quality of life."                           
Francesco agrees. "Not having music is a little like not having freedom," he says. "You can survive without it or adapt your life to the level that you have, but once you're presented with freedom, you're not really happy to go back."