Kenya climate change finance brings relief to pastoral herders hit by drought. The loans are backed by the European Union, because local banks are reluctant to risk lending to remote regions
Just outside the small market town of Konya in the county of West Pokot, Alex Losur Angura herds goats in front of his mud hut. His colourful robe persistently gets tangled in the surrounding spiky shrubs typical of this dry area of northwest Kenya.
"When it rains it doesn't rain very well," Angura says. "The grass doesn't grow. We have to migrate and move to Uganda. That is the biggest problem."
Pastoral cattle herders like Angura move around in search of grass during the dry season. Nowadays, droughts hit the region more often because of climate change. While on the move, some animals die from hunger, disease or in cattle raids by rustlers. Herding conflicts erupt between communities, especially when Kenyan herders cross the border to the greener pastures of Uganda in search of water and fodder.
"When the animals die, we have no other way to sustain ourselves," he says. "If the animals die, we will starve because it is the animals that we sell, so that we can buy food."
Lately, Angura's work has improved thanks to a new agricultural outlet store that opened in Kanyao, right next to Kenya's western border. The shop is the latest expansion by Paves Vetagro, an agribusiness company which received financing from a European Investment Bank loan. The company offers educational services and agricultural products to farmers and livestock keepers in remote parts of northwest Kenya. At the outlet shop, local farmers and herders can purchase anything from animal feed to veterinary drugs, including vaccines, as well as farm supplies such as fertilisers, climate-smart seeds and farming equipment.
"Paves Vetagro really helped us, because the animals now even give birth well and they give a lot of milk," Angura says. Now he can easily approach the company's veterinarians and ask them to come and vaccinate his animals. He has learned to give salt to the cattle to keep them in better shape.
Local services for remote communities
Paves Vetagro was founded in 1999 by Benson Ririmpoi, a veterinarian who was born and brought up in West Pokot. He has worked hard to help the West Pokot livestock herders and smallholder farmers in the face of the region's remoteness and lack of infrastructure.
Ririmpoi created his business to offer services as close as possible to the remote communities.
"What we have done is that we have positioned ourselves as the central service provider, and then we have identified partners that are living within the communities," says Ririmpoi.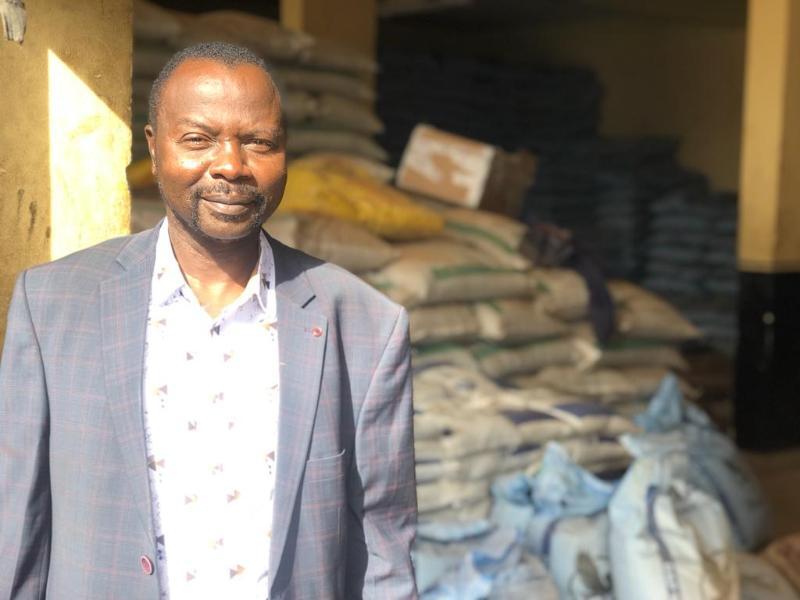 Initially running the business from the country's captail, Kapenguria, Paves Vetagro achieved this closeness with the communities by collaborating with local retailers who stock farm products. In 2021, the company opened two satellite branches, including the one close to Angura's mud hut in Konya. The stores were financed with a loan of nearly €200 000 to Paves Vetagro that was backed by an EU financing tool called the Kenya Agriculture Value Chain Facility.
The European Investment Bank created the Value Chain Facility in 2018 to help commercial banks in the country give more loans to agricultural companies that help smallholder farmers. The facility is supported by a €50 million loan the European Investment Bank signed in 2018 with Equity Bank, a leading provider of finance to small Kenyan communities. The facility includes a €10 million grant from the European Union.   The loan and grant enable Equity Bank to receive technical training and offer many smaller loans to Paves Vetagro and other companies and entrepreneurs.
In March 2021, the European Investment Bank signed a new loan worth €100 million with Equity Bank, and the European Union approved a €20 million grant. This new assistance will help a wide range of companies hurt by the COVID-19 pandemic, including those in the agricultural sector.
"The agricultural sector is the main contributor to employment in Kenya, and smallholders as well as small companies in the agricultural business are key players," says Nicholas Nzioka, a senior loan officer for the European Investment Bank based in Nairobi. "However, these companies and farmers have limited access to banks or loans."
Financial assistance for farmers is especially welcome in Kenya, where agriculture represents 23% of the country's gross domestic product. Agriculture provides work for nearly 54% of Kenyans, but the many difficulties involved in getting a loan have hurt the sector's development and modernisation. Less than 5% of bank loans in Kenya go to the agricultural sector, Nzioka estimates.
Getting a loan was not easy for Ririmpoi, the veterinarian who started Paves Vetagro.
"I tried to go to various financial partners, but because of where I was going to practice and do business, in the arid and semi-arid areas of West Pokot and Turkana, nobody believed in my plan," he says. "But because I believed in the model and I had lived here, I knew that it could actually work. Although the community may not have a lot of money, actually they would be willing to pay for services."
Training smallholders and pastoralists
Paves Vetagro also received a grant from a finance tool called the AgriFI Kenya Challenge Fund, which was set up by the European Union to encourage smallholder farmers and herders to practice sustainable agriculture. The grant and the loan complement one another. Paves Vetagro used the loan to expand the business, and the grant helped the company train more communities in good production methods and animal disease management. Over 7 000 smallholder farmers and pastoral herders have benefitted from workshops given by professional veterinarians and agronomists that received grants from the AgriFI Kenya Challenge Fund.
Paves Vetagro now has eight stores in West Pokot, and the company distributes products to 12 counties in northern Kenya. It employs more than 100 people.
"The grant and the loan have actually helped our business in a big way," says Ririmpoi. "Our proposal was to expand our reach, in order to link our livestock keepers and our smallholder farmers to our services, to our products and to markets."