The founder of Adopta un Abuelo sought a system to ease the isolation of the elderly while allowing them to pass on life lessons to young people
By Chris Welsch
Alberto Cabanes had a good job at the auditing firm KPMG in Madrid and was headed towards the kind of success you can measure in material things and good career prospects. But something was missing.
He was visiting his grandfather Clemente in a retirement home in his home town of Ciudad Real when he realised what that missing piece was.
Whenever he visited Clemente, another resident of the home would come to talk to him as well, and they'd become friends. "When you go to visit these places, you're like a magnet," Cabanes said. "People want to talk. This is how I met Bernardo."
On this particular visit Bernardo said to Cabanes: "'Alberto, I don't have any sons. And so I don't have any grandsons. My lifelong dream has been to have a grandson.' And I said to him, 'Don't worry, because I am going to adopt you as my grandfather.'"
Cabanes said that he benefited so much from his visits to his grandfather and Bernardo, and he could see they felt the same way. That mutual benefit convinced him to research the possibility of building a business around the idea.
"We have a huge problem of isolation of the elderly," Cabanes said. In trying to solve this problem, he could combine "profit with purpose and social impact."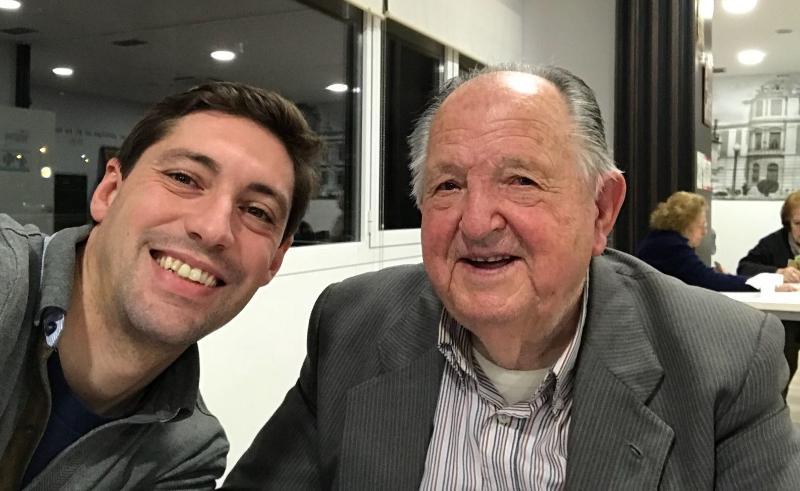 "Democratising" companionship
"First I did some experiments. I wanted to validate the idea. I introduced my friend Verónica to an elderly woman named Rosario. And they loved each other, so I put out a big call to action [on the Internet] saying 'Be A Volunteer!' and I got hundreds of responses. So I knew it could work."
Two and a half years ago, Cabanes quit his job at KPMG to focus on Adopta un Abuelo (basically, "Adopt a Grandpa") full-time.
His goal is to "fully democratise" companionship, so that elderly people in retirement and care homes can have more social interaction, and just as importantly in his view, so that the young volunteers can learn from previous generations. "To me, these people aren't elderly, they're masters of life with a lot of knowledge and values to share."
Cabanes has found considerable enthusiasm for his mission. Adopta un Abuelo is one of the winners in the EIB Institute's annual Social Innovation Tournament, which recognises and supports European social entrepreneurs whose primary purpose is to generate a social, ethical or environmental impact. And in February, Google awarded Adopta un Abuelo a fellowship that comes with office space in Madrid and research and other kinds of support. Cabanes works there with three employees, and in January added an office and an employee in Lisbon, making Portugal the first country other than Spain to have an active programme.
"Now we are in 35 cities," he said. "We have 2,000 volunteers and more than 18,000 companionship hours provided. Our big problem now is getting more elderly people. We have about 12,000 young people from 12 countries who want to volunteer, so the next step is finding more care homes and signing agreements with them."
Adopta un Abuelo's business model was also the result of experimentation, according to Cabanes. At first he thought it made sense for the care homes to pay a fee to be connected with volunteers for their residents. But not enough care homes were willing or able to budget for the expense. So then he started asking the volunteers if they would be willing to pay.
"One hundred per cent of them said they would pay," he said. Cabanes said he is still adjusting the fee. For now it is under €100 annually. Volunteers also get a phone app that helps Adopta un Abuelo supervise and support the relationship, a welcome kit, and training.
Creating new connections
Mai Vuong, 26, joined the Adopta un Abuelo network after learning about it on the Internet in February 2019, she said. An au pair and student from Hanoi who lives in Madrid, Vuong said that the idea of connecting with a Spanish grandmother appealed to her for many reasons.
"For one, it's a way for me to practice Spanish; second, it's a way to help someone, and I'm the type of person who likes to listen and learn from others," she said.
She meets with her adopted abuela, Clara, and another volunteer each Tuesday for 90 minutes of conversation.
"She is so friendly, and she talks about her life and family," Vuong said. "It helps me miss my grandmother and family a little less."
Cabanes, who is 30, said that he's happy to have found a sense of purpose with Adopta un Abuelo, and that is what drives him forward.
"I think in the '80s and '90s success was to have a car, a nice house, a really good position," he said. "But in our generation it's important to have a social impact. In my case to have success will be in 60 years when two volunteers adopt me as their grandfather so I can transmit the values and lessons I got from Bernardo to them. This is success in the 21st century."