Young designer dreams up an inflatable bed-tent for disabled children to keep them safe and help them—and their parents—sleep well
In the spring of 2020, Louise and Kees Oorschot were exhausted. Their daughter, Loes, 26, has a mental disability. She cannot speak and has a visual impairment. For years, her sleep was disrupted by episodes that meant Louise and Kees were up, trying to get her back to bed. The situation at their home in Wijk bij Duurstede in the Netherlands got worse after Loes had a crisis and became even more agitated at night.
One of Loes' regular caregivers, who helps the family, had heard of an inflatable bed-tent called CloudCuddle. It attaches to a regular bed, creating a nest-like secure space for children with disabilities. It also prevents them from falling out of bed.
 Louise and Kees were reluctant to use it—they felt that after 20 years in a regular bed, Loes would feel locked up. But desperate for change, they decided to give CloudCuddle a try.
The first night, Loes went to her CloudCuddle, her carer next to her, with one side of the tent unzipped. "Loes laid down in the CloudCuddle without protest," Louise says. "She slept very well on the first night. She didn't get out of bed."
The second night, they tried it with Loes alone in the room and the tent zipped up all the way. "Loes slept like a log!" Louise says. Six months later, she is still marvelling about the change that something so simple has brought to her family's life. "Last night she went to bed at half past nine, and she woke up this morning at half past nine. For us, it's heaven."
A simple solution
It's stories like these that inspire Lotte Leufkens, the founder of CloudCuddle, and the rest of the company's team. Lotte was an engineering student in 2014 at the Technical University of Delft. In one of her classes, the professor challenged the students to find a solution to the problems described by a father with a disabled child. One of those issues was being able to travel with his son, who required a large, heavy crib-like bed to keep him secure at night. Any kind of overnight travel meant going somewhere that had a similar bed or renting a very expensive portable version of it. So families are very much home bound. The situation can lead to burn-out, divorce, unemployment and all sorts of minor and major health issues for everyone involved. 
Lotte fulfilled the assignment by designing CloudCuddle, a portable bed enclosure with inflatable supports and netting on the sides, easily attached to a standard single bed.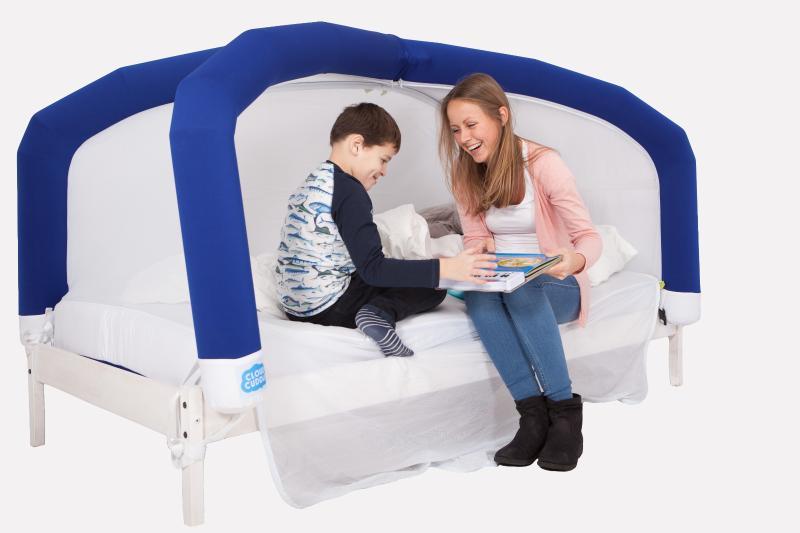 After she graduated, she decided to make the idea a reality as an entrepreneur. She could see the demand for such a device could be enormous and global. By her calculation, as many as 100 million children with disabilities could benefit from the safety and psychological advantages of the CloudCuddle.
Freedom, stress relief and better sleep
In 2016, the company was born, and the first models became available the following year. The device has a CE-certification as a Class I Medical Device. Aside from being portable, the CloudCuddle costs much less than a normal wooden secure crib for disabled children.
To date, about 1 500 families have benefited from the CloudCuddle, either through rentals or sales, Lotte says, mostly in the Netherlands and Belgium. She said she expects the company to sell 350 units in 2021, and the company is looking for investors to help expand sales into other European countries, like Germany and France.
The small business took part in the 2020 Social Innovation Tournament, which is organised by the European Investment Bank Institute to promote creative responses to societal problems.  Cloud Cuddle was one of 15 finalists selected from an outstanding group of 216 candidates in 31 countries and invited to attend the INSEAD Social Entrepreneurship programme.  The Social Innovation Tournament recognises and supports the best European social entrepreneurs, promoting and rewarding innovative ideas that have social, ethical or environmental impact. 
For Lotte, seeing her invention help people has been one of the best aspects of her work. "It's amazing to hear what a difference it makes. The three keys elements are freedom, stress relief and better sleep for everyone. And so the impact in so many lives is incredible," she says.
Louise Ooscholt for one is happy to talk about that impact. "We wish we had had something like this 20 years ago," she says. "There have been so many nights awake. For Loes too. But now the Cuddle is like her sleeping home – she's relaxed by it, and so we are too."