Several energy projects aim to make Croatia greener, ensure a secure energy supply, and improve lives in Zagreb
Just eight kilometres from the Kaštel Benković, a medieval castle, the village of Korlat produces one of the finest red wines in both Croatia and Europe. Since 2021, the Croatian village is also bringing in another important harvest – green energy.
Korlat is home to the largest wind farm in Croatia, consisting of 18 wind turbines with an installed capacity of 3.6 megawatts each. The power plant produces around 170 gigawatt hours annually. That's about 1% of Croatia's annual electricity consumption and energy for more than 50 000 households.
Headquartered in Zagreb, Hrvatska Elektroprivreda d.d. (HEP) is behind the construction and operation of the wind farm. It is the first plant of its kind for the company and the first direct renewable project in Croatia that isn't at least partly financed by any public support scheme.
HEP has a key role in leading Croatia's transition to low-carbon energy. Apart from the onshore wind farm, it is also developing five small solar photovoltaic plants (22 megawatts in total) in southern parts of Croatia, Split-Dalmatia, Zadar, Istria and Primorje-Gorski Kotar counties. Together, the two projects, supported by the European Investment Bank, are estimated to save 66 kilotons of CO2 emissions per year and 28.8 gigawatt hours per year.
---
---
A plan for a greener Croatia
Croatia wants to cut its CO2 emissions by 45% by 2030 and to abandon coal by 2033. But the transition to a low-carbon economy won't be easy, requiring major investments in new energy infrastructure and increased renewable energy resources. 
To achieve its goal, Croatia set up a 2030 National Energy and Climate Plan. The national strategy aims at a 36.4% share for renewable energy by 2030 and significant investment across the energy sector, including hydropower, wind farms, solar photovoltaic plants, and hydrogen energy. It will also support the production of electric batteries as well as the renovation and expansion of the electricity networks.
HEP's wind farm and five solar power plants are among the projects that will contribute to Croatia's national plan. The European Investment Bank is supporting this project with a €63 million loan, signed in December 2021.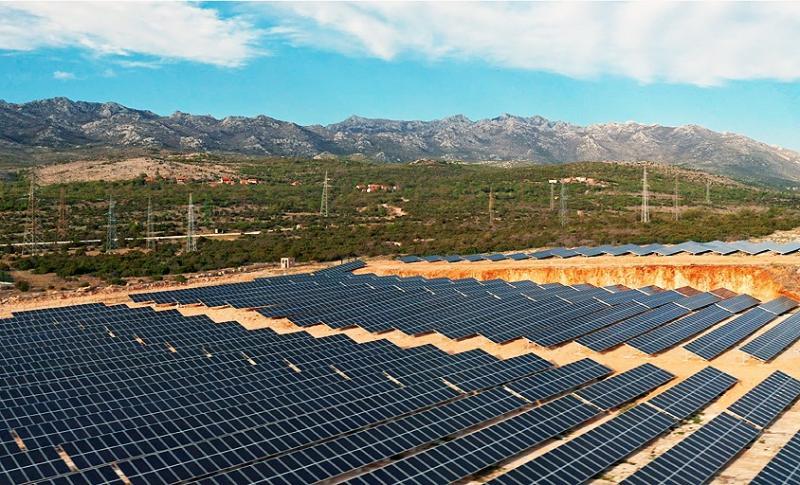 "This is the first renewable energy project financed by our bank in Croatia," says Grigorios Krallis, a senior energy sector engineer at the European Investment Bank. "The financing will help HEP to enter the renewable sector and engage with renewable energy projects in the future."
Cleaner and more energy efficient Zagreb
The combined-cycle power plant EL-TO Zagreb, financed with €130 million from the European Investment Bank, the European Commission and the European Bank for Reconstruction and Development in 2018, is another HEP project that will reshape the energy landscape in Croatia. Situated in Croatia's capital, the power plant will combine both a gas and steam turbine, producing over 50% more electricity than a traditional simple-cycle plant.
"EL-TO Zagreb will replace old oil and gas plants, which perform poorly and don't comply with the European environmental regulations," says Jacek Podkanski, a senior engineer at the European Investment Bank. "The new power plant will make use of advanced, yet well-proven technology, decreasing pollution levels and increasing energy efficiency."
By generating 150 megawatts of electricity and 114 megawatts of heat, the new power plant will provide reliable heat to the northwestern part of Zagreb and electricity to the national grid. This is particularly important in times of serious electricity and heat supply interruptions.
---
---
The road forward
The COVID-19 pandemic hindered the implementation of renewable energy projects, creating additional operational and financial challenges for the company. But, projects, such as Korlat's wind farm and EL-TO Zagreb show that Croatia is making a lot of progress towards its goal of running on renewable energy by 2030.
The European Investment Bank will continue to support Croatia's green transition. With the REPowerEU initiative, the Bank will provide an additional €30 billion in energy loans and equity financing for high impact energy projects EU-wide over the next five years—on top of our regular lending. These additional funds will also help back important projects in renewables, energy efficiency, grids and storage, electric vehicle charging infrastructure, and the development of breakthrough technologies in Croatia.