Belgrade science park brings together young innovators and start-ups with EIB financing
When Serbian university students came up with the idea for the world's first public solar charger for mobile devices a decade ago, they named the company Strawberry Energy and looked about for a headquarters that would keep them close to like-minded entrepreneurs.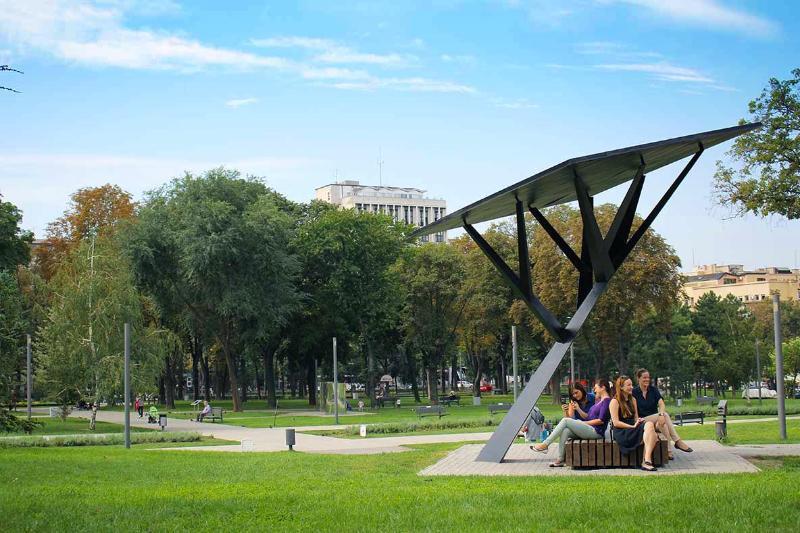 "Two years later, you could find our solar charging benches in cities spread across five countries", says Bojana Borković, one of the founders. It took a lot longer to find a suitable headquarters.
In October 2015, Strawberry Energy finally found its home when the Science Technology Park opened in the Zvezdara forest in the country's capital, Belgrade. The aim: to foster collaboration among innovative, new companies. "There is a feeling of community," says Borkovic. "We have an opportunity to collaborate with people from different companies, attend educational seminars and conferences in the park for free and, most importantly, meet potential clients."
"The park has become a place to be," she adds.
The science park concept
Science parks, which first popped up in 1950s America, are strategically planned work environments. They're usually found close to universities and government or private research bodies, so people and start-up companies can share knowledge and develop new ideas.
"The idea to build a science park in Belgrade developed in the Eighties," explains the Park's director Gordana Danilović Grković. "The construction did start in 1989, but with the breakup of Yugoslavia, it was never finished." Then in 2010, it got a new lease on life.
The European Investment Bank and the Serbian government signed a EUR 200 million loan in 2010 aimed at revitalising the country's public research and development activity. EU grants totalling EUR 3.5 million greatly facilitated the realisation of this project. The loan is also in line with the Bank's Economic Resilience Initiative which works on stimulating growth and job creation in the Western Balkans, among other things. One of the sub-projects included was the creation of Science and Technology Park in Belgrade – worth more than EUR 14 million. Three more parks are planned – in Novi Sad, Niš and Kragujevac.
Creating a culture of innovation
Established by the Serbian government, the City of Belgrade and the University of Belgrade, the park's aim is to create a favourable environment for knowledge transfer, networking and new technology development.
"The park serves as a safe haven for numerous start-ups in Belgrade," says Darko Djukić, the government official who was in charge of the implementation of the project. "It has also created a positive atmosphere that promotes innovation and exchange of ideas".
Plugging Serbia's brain drain
Strawberry Energy isn't the only company that does its business in the Belgrade science park. Sixty companies (of which 37 are start-ups) work in the park 4.5 km from the city centre. They include:
Honorarci.rs, Serbia's first internet database of part-time workers
Mainflux is a technology company offering a full-stack open-source, patent-free IoT (internet of things) platform
"More than 500 young engineers are employed by companies working at the park," Danilović Grković, the director of the park, states proudly. "If it weren't for the park half of these people would be long gone, working abroad".
 "Now everybody knows where to come to develop new ideas, because this is the centre of innovation in Belgrade."