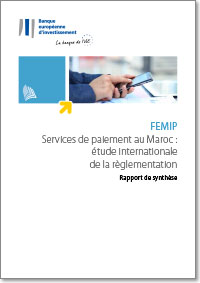 Description
This report is a summary of the various elements of the "Mobile financial services and payment services in Morocco: international study of the regulations and support of the Central Bank" project carried out by the EIB and Bank Al-Maghrib (Central Bank of Morocco)
with the financial support of the Middle East and North Africa Transition Fund as part of the Deauville Partnership.
The report includes a summary of country analyses and recommendations on the introduction of a payment services regulation. The countries (or groups of countries) studied are: Brazil, Kenya, Luxembourg/Belgium, the Philippines, Pakistan and the WAEMU zone.